Dear brothers and sisters in Christ,
By now, many of you are probably aware that Dr. Mike Feazell, who has served the church faithfully for a total of nearly 40 years, has decided to take an early retirement at the end of this year due to personal health issues. Mike discussed this with me many months ago and we have been spending much time since then working out a smooth transition as he steps down from his many responsibilities with the church. This has not been a simple task, as Mike has played such an integral and vital role with WCG and GCI, especially during our tumultuous doctrinal transformation, which began not long after the death of Herbert Armstrong in 1986.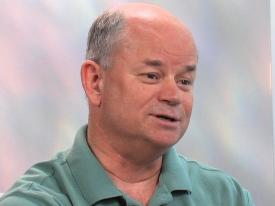 Dr. Mike Feazell
Dr. Feazell served my dad as his special assistant for seven years during my dad's tenure as director of ministerial services and church administration from 1979 to 1986, and continued in the same role for another nine years after my dad succeeded Herbert Armstrong as president of the church. After my dad's death in 1995, Mike served as director of church administration for two years before turning that responsibility over to Dan Rogers, then as media director and senior advisor to the president and now for the past ten years he has also been GCI vice president.
As media director, Mike brought ideas for many key projects to me for approval over the years, including Christian Odyssey magazine, Speaking of Life video program, which I deliver each week on our GCI website, and GCI Together, GCI Reflections, and One Quick Thought video programs, You're Included interview series and more recently, Dimensions in Ministry interview series. Mike is our corporate doctrinal editor, chairs our doctrinal review team, serves on the church board of directors, and serves as vice-chair of the board of Grace Communion Seminary.
In Mike's departure there is bad news and good news. The bad news, of course, is that we hate to see him go. His writing and preaching over the years have been special blessings to a great many people. But the good news is that he will be getting much-needed rest and the reduced stress load will allow him to begin to rebuild his health. We have tentative plans for Mike to continue doing the interviewing for You're Included and Dimensions in Ministry.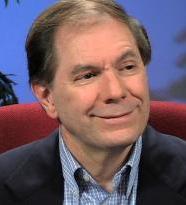 Dr. Gary Deddo
There is also more good news. Mike and I, along with Russell Duke, Dan Rogers and others, have been in discussions for some time with Dr. Gary Deddo, who feels called to serve in GCI, about coming aboard to replace Mike in most of his key responsibilities. As you might recall, Dr. Deddo is a long time senior editor for InterVarsity Press (IVP) and has appeared numerous times on our You're Included program. He, along with his wife, Cathy, has spoken at our regional conferences both in the U.S. and in Canada and both spoke at our international conference in Orlando, Florida, two years ago. Dr. Deddo will be able to devote some time to a period of transition starting in January 2012, and will go full-time in July 2012.
Mike has expressed to me that he feels God's hand and blessing in Gary's sense of call to GCI at this time, and I must say I agree. It is not easy to fill the void Mike will leave, or the void that any of our long-time faithful employees leave, but Mike and I both feel Gary will bring many new strengths and talents that will help GCI continue to move ahead in Jesus' service in the years to come. Gary's job title will be Special Assistant to the President, and he will oversee the doctrinal integrity of our publications and videos as well as assist me in many of the same ways Mike has.

Dr. Russell Duke
Replacing Mike in the office of GCI vice president will be Dr. Russell Duke. Dr. Duke has served the church for more than 40 years in many capacities, both pastoral and administrative, including as President of Ambassador University and Executive Director of the Ambassador Center at Azusa Pacific University. Russell is now President of Grace Communion Seminary, and that will continue to be his primary responsibility.
I'd like to ask that you join us in prayer for Mike as he enters retirement and a much-needed rest, for Russell as he takes on the role of GCI vice president, and for Gary as he changes careers to join with our worldwide GCI team in proclaiming the good news of the God revealed in Jesus Christ!
And I'd like to ask for a word of prayer for myself, too, if you don't mind. Mike and I have been dear friends for the past 45 years, and we will continue to be, of course; but we have also worked together for such a long time with such harmony and singleness of purpose that I will greatly miss his excellent and exemplary work in the gospel and his ever-ready personal support on the job.
I pray for all of you every day.
May God's peace and strength be with you always,
Joseph Tkach
P.S. This will be the last GCI Weekly Update published this month as we take a break for Christmas. Our Glendora office will be closed from Monday, December 26 through Monday, January 2 (back open on January 3). The next issue of Update will then be sent out on January 4. See you then, and in the meantime, Merry Christmas and a very Happy New Year!
The following report is from Becky Valekis, wife of Jim Valekis, senior pastor of CrossRoads Christian Fellowship (CCF), the GCI congregation in Tipp City, OH.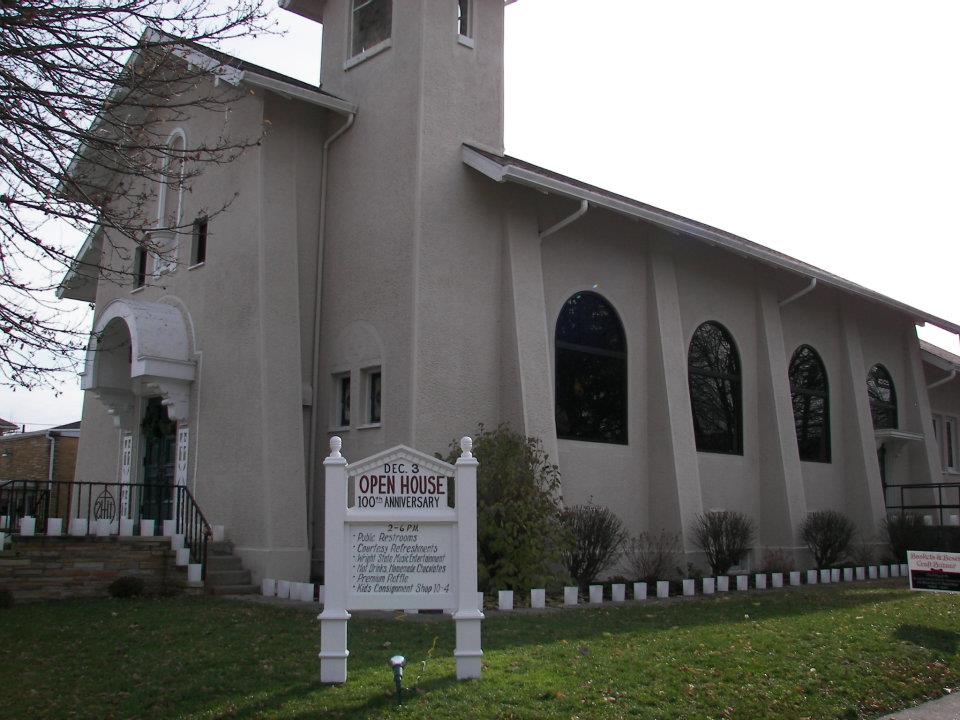 CCF chapel (sanctuary) building (click to enlarge)
This year, CCF was invited to participate in the Holiday Tour of Homes, an annual Tipp City Christmas season community event. Typically, several historic Tipp City homes are invited to decorate for Christmas and participate in the tour. For the first time, this year's tour included a church building – the one that CCF has owned, worshipped in and served out of for about five years. We viewed our participation in the tour as a great opportunity for community outreach during the Advent/Christmas season. It also gave us the opportunity to host a community celebration of our sanctuary (chapel) building's 100th anniversary.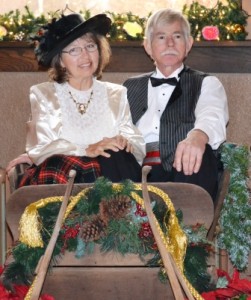 Understanding that about 800 people would participate in the tour, we got busy preparing. We decorated our chapel and fellowship hall. We also prepared refreshments, including a birthday cake big enough to serve 500! During the event on December 3, we held a raffle and sold homemade candies and hot drinks. We also invited music groups from a local university to play Christmas music, provided a children's gift shop, and set out displays of historic artifacts related to the community and our building.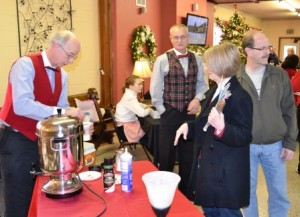 We were very pleased with the enthusiastic community response. About 500 visitors toured the church. Many lingered for refreshments, to listen to music and to talk with CCF members. We distributed many pamphlets about the church and our ministries.
Our church building formerly housed St. John the Baptist Catholic Church and many in the local community have fond memories related to the building. Understanding this, during the afternoon of the tour we hosted a building rededication ceremony. It included St. John parishioners (including Father Marc), other community members and members of our congregation (including Pastor Jim). Following the service, many stayed to visit with Pastor Jim and other CrossRoads church members.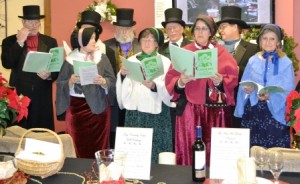 Our primary goal in hosting this event was to become even more visible as a congregation that loves and serves its community. In years past we have conducted regular community outreach events, including hosting fish fries for local causes, providing food for the needy and participating in the city's Days of Caring that helps families in need of home repair.
Pastor Jim has taken a lead role in this outreach. He has served in various community leadership roles, including participation in United Way committees. In 2012 he will serve as the president of the Downtown Tipp City Partnership, which works to preserve and promote Tipp City and its historic downtown shopping district. Through all of these outreach efforts we are becoming well known as active servants in our focus community. As a result, a growing number of local, unchurched residents are becoming active members in our congregation.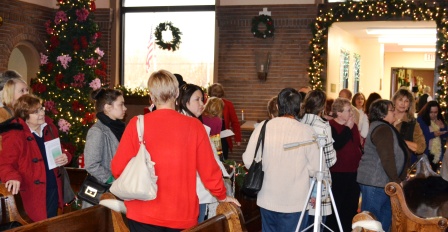 The following report is from Charles Fleming, GCI Missions Director for the Caribbean region.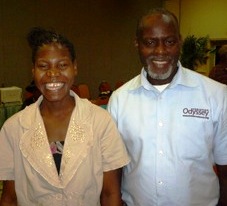 Ocho Rios was the beautiful site chosen by the Jamaican churches for their annual celebration of Christ's work in our lives held on December 1-4. The theme for the convention was "A New Awakening in Christ."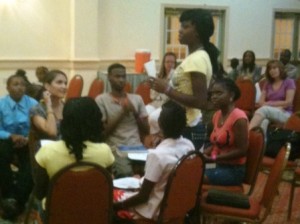 Members of the Christian Pen church (GCI's largest congregation in Jamaica, which meets on the outskirts of Kingston) made a special effort to sponsor to the convention several young people from the community surrounding the church. A number of these teens began attending the church without their parents when they were small children and have become an integral part of the congregation. It was a joy to see how at home they are in our church and how actively they participate in worship. One person commented on how good it is to see young people learning just how joyful the Christian life can be.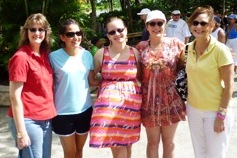 Members were delighted to host this year's special guests – Joe and Tammy Tkach, Mike Feazell, Greg and Susan Williams and Rick and Cheryl Shallenberger. Many members commented on how much they were impacted by the messages and by how easy it was to connect with and fellowship with all the visitors. Christ is truly making us a joy-filled, open, accepting and caring community.
After the convention, Greg and Susan Williams spent two days in Kingston meeting with leaders from the Christian Pen congregation discussing ways that GCI's U.S.-based Generations Ministries (GenMin) can support the continuing efforts of the local church to serve youth in the community. Greg said GenMin can help upgrade the existing Vacation Bible School by sending a team to assist in next year's VBS. Michelle and Anne Fleming are spearheading that effort. The plan is to have a number of young Christians (GCI and others) travel to Christian Pen next July.
On November 1 GCI Pastor Neil Earle and his wife Susan were invited to set up a "400 Years of the King James Version" display at the Duarte, California Public Library.
The display features two large impressive Bibles. One, a family Bible dated 1898, is on loan from Phyllis and Russell Duke. A 1770 German Bible is on loan from Susie Albrecht. Other items on display are on loan from Joseph Tkach and Curtis May.
Many gratifying comments have been received, pictures taken for the local newspaper, and the library requested that the display be left a while longer. Now, officials from the Duarte Museum are making space available to set up the display there as a temporary exhibit.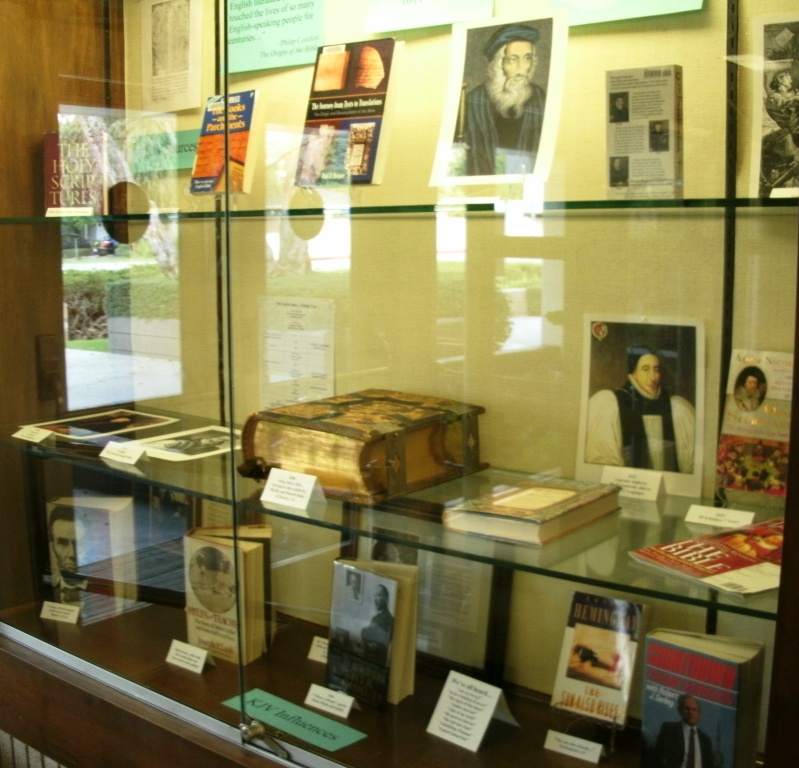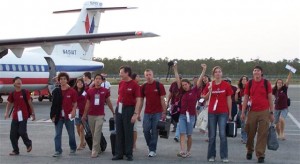 "Going on short-term mission trips has changed me. I now see my whole life as a mission field. I now see my school as a mission field where I have the opportunity to make the Kingdom visible to my friends and classmates. We all have opportunities like this. The question is this: Do we dare to take them? Short-term mission trips are like a training ground to live the Gospel everywhere in our lives."
This statement is from a young GCI member who has participated in some of Generations Ministries' short-term mission trips. GenMin invites you (along with others from your church), to join one of these inspiring short-term mission trips in 2012. GenMin is hosting several trips next year to the following locations: Cincinnati, Ohio (urban mission), Mexico, South Africa and India.
Adults and older teens will greatly benefit from one of these trips. They are physically challenging, yet they yield great spiritual rewards – helping participants to become more fully missional in their outlook and lifestyle. Fundamental to these trips is the understanding that being missional is not about a small compartment of one's life. Rather, it's a lifestyle that is expressive of God's own nature – the God who is a sending God – who, as an expression of his love, sends his Son on mission to the world through the Holy Spirit. A short-term mission trip is an excellent way to "jump in" and begin living "sent" in every aspect of one's life.
For more information about GenMin short-term mission trips, you may email Anthony Mullins (anthony.mullins@gci.org) or visit individual GenMin short-term mission websites:
Here's an update from Jim Kissee on his daughter Janna Jones:
I just arrived home and we are thrilled. Janna's cancer surgery Tuesday was longer than expected due to a larger tumor and more lymph nodes included. The nerve that we were concerned about is okay. The other nerve to the voice box was stretched, but all looks good. Janna experienced some hoarseness but her doctor noticed a change in her voice just from yesterday – a good indication that this nerve is starting fire. The doctor felt he was able to remove cancerous areas completely, which is great news.
Thanks for the prayers.
Jim
We are saddened to announce the death of Dennis Lawrence, a GCI pastor in Montreal Canada. The following announcement is from Dennis' wife, Lynn Lawrence:
To all our wonderful church family across Canada and the world,
It is with great sadness that I share with you that my husband, Dennis Lawrence, lost his battle with cancer on Wednesday evening, December 7. Although Dennis' health had been declining slowly, he was home and reasonably independent up until the Wednesday before his death; even attending a pastors' meeting of churches in the area we have our services in Montreal. The change between Wednesday and Thursday was dramatic and he entered a hospice center on Friday. During the last few days of his life Dennis was surrounded almost continually by his whole immediate family, including my mother and his sister, and we were able to be there with him as he drew his last breath.
It would be impossible to summarize the last 37 years in ministry, but I know he loved it, and all the people he had the privilege of working with and for. He loved the people God gave him the chance to serve.
It is also impossible to adequately express our appreciation for not only the thousands of you who prayed for him, but also the hundreds that took the time to tell us, some repeatedly, that you were praying regularly for Dennis' healing and peace. All that prayer and love held us up often during his 20-month illness. Please share with your churches how very much we appreciated all the cards, letters and facebook/email messages of love and encouragement. Dennis will be greatly missed by all of us, I know.
-Lynn
Note: you can send Lynn notes of condolence by using the "add a comment" feature below, by emailing them to lynnegbert@yahoo.com, or by sending them to:
Lynn Lawrence 211 De L'ile Blvd Pincourt, PQ J7V 3R6 CANADA
We are saddened to announce the death of Robert McAlexander, associate pastor in Eugene and Oakridge, OR. He died on December 3. His death was unexpected and, at this point, the cause is unknown. Robert, who was 62 years old, is survived by his wife Kathleen. Please keep her and the rest of the family in your prayers.
Cards and letters can be sent to:
Kathleen McAlexander P.O. Box 7642 Springfield, OR 97475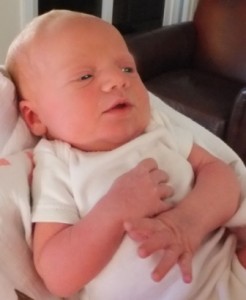 Glen and Connie Weber, who pastor New Hope Christian Fellowship, the GCI congregation in Eagle Rock, CA, are happy to announce the arrival of their second granddaughter (third grandchild) on November 29. Born to Dennis and Carolyn Weber, Sophie Elizabeth Weber was 6lbs., 10oz and 19-1/2″.
All are doing well.
For the last seven years New Hope Christian Fellowship (the GCI congregation in Eagle Rock, CA) has offered a Sunday morning church service at The Fair Oaks by Regency Park Senior Living Center in Pasadena, CA. The service, which is coordinated by GCI elder Ron Kelly, draws from seven to 20 people with various denominational backgrounds.
One of the most consistent attendees during the last five years has been Peggy Singer. On November 29 the Fair Oaks staff gave her a 100th birthday party. In attendance were the four GCI elders who routinely speak at the church service. The picture below shows some of the celebrants, including Peggy, some of her relatives, and the GCI elders and their wives: Glen and Connie Weber, Larry and Linda Helscher, Fred and Maryann Stevens, and Ron and Norva Kelly.
GCI media announces the posting of a new 2-part Dimensions in Ministry interview with Steve Elliott concerning pastoral coaching. Steve, who was a guest speaker at the 2011 U.S. regional conferences, is president of Church Assistance Ministry, an organization providing training and coaching to church leadership.
You will find the series online: