Dear Brothers and Sisters,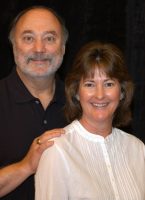 Joseph and Tammy Tkach
The incarnation of the eternal Son of God is of such great importance that without it there can be no true Christianity. The apostle John put it this way:
By this you know the Spirit of God: every spirit that confesses that Jesus Christ has come in the flesh is from God, and every spirit that does not confess Jesus is not from God. This is the spirit of the antichrist, which you heard was coming and now is in the world already. (1 John 4:2-3, ESV)
As I noted in my Update letter last week, the virgin birth of Jesus is an important part of the doctrine of the Incarnation. It declares that the Son of God took on a full and complete human existence while remaining what he was—the eternal Son of God. The fact that Jesus' mother Mary was a virgin was a sign that it was not by human initiative or involvement that she became pregnant. The voluntary conception that occurred within Mary's womb came about through the ministry of the Holy Spirit who joined Mary's human nature to the Son of God's divine nature. The Son of God thereby took on a complete human existence from birth to death, to resurrection and ascension, continuing forever in his now glorified humanity.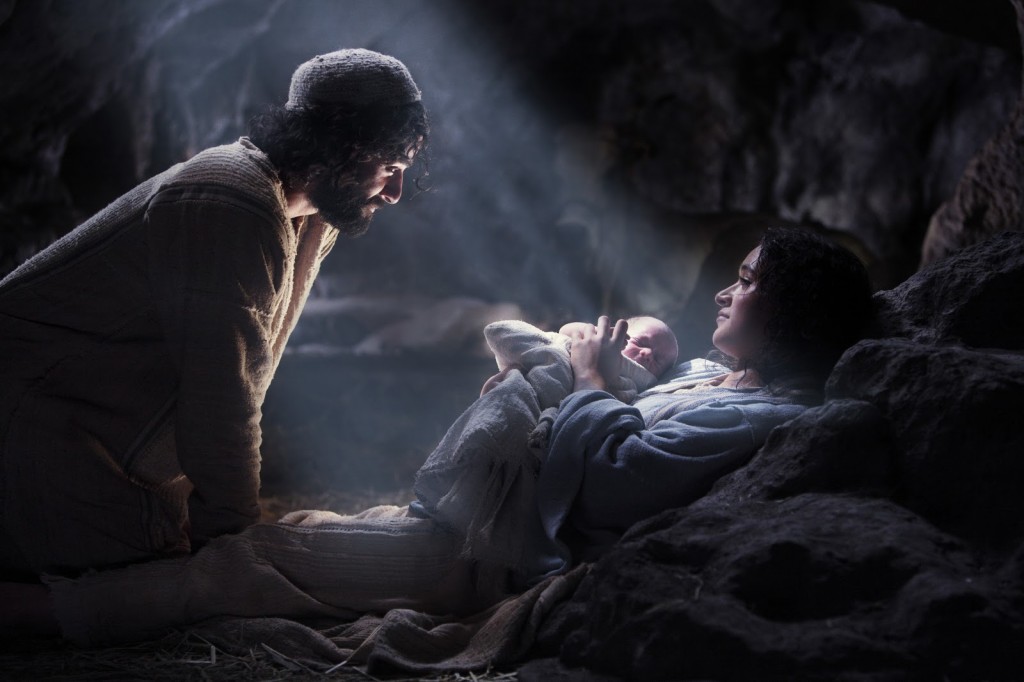 "Unto us a child is born, unto us a son is given" (Isa. 9:6 KJV). 
(source)
There are those who scoff at the idea that Jesus' birth was a miracle from God. These skeptics disparage the biblical record, as well as our faith in it. I find their objections quite ironic in that while viewing the virgin birth as an absurd impossibility, they maintain their own version of a virgin birth in connection with two principal claims:
They claim that the universe came into existence by itself, from nothing. I think we're entitled to call that a miracle, even though they say it came about mindlessly and purposelessly. Of course, when one looks more closely at their descriptions of nothing, we find that it is a case of smoke and mirrors. Their nothing is redefined as something such as quantum fluctuations in empty space, or cosmic bubbles, or an infinite assembly of the multiverse. In other words, their use of the term nothing is misleading, since their nothing is filled with something—the something that our universe came forth from!
They claim that life arose from non-life. To me, this claim is far more "out there" than the idea of Jesus being born of a virgin. Regardless of the scientifically verified fact that life comes only from life, some still manage to believe that life arose from a lifeless primordial soup. While scientists and mathematicians have pointed out the impossibility of such an occurrence, some still find it easier to believe in a mindless miracle than to believe in the true miracle of Jesus' virgin birth.
In support of the first claim, physicist Stephen Hawking said this: "The universe can and will create itself from nothing. Spontaneous creation is the reason there is something rather than nothing, [it is] why we exist" (The Grand Design, p. 180). Philosopher Quentin Smith put it this way: "The fact of the matter is that the most reasonable belief is that we came from nothing, by nothing and for nothing. We should… acknowledge our foundation in nothingness and feel awe at the marvelous fact that we have a chance to participate briefly in this incredible sunburst that interrupts without reason the reign of non-being" ("The Metaphilosophy of Naturalism," Philo 4.2., 2000).
Though skeptics like Hawking and Smith embrace their own forms of virgin birth, they consider it fair game to lampoon Christians for believing in the virgin birth of Jesus, which necessitates a miracle from a personal God who transcends creation. Doesn't it seem to you that those who see the Incarnation as impossible or improbable are embracing a double standard?
Scripture teaches that the virgin birth was a miraculous sign from God (Isa. 7:14), designed to fulfill his purposes. The repeated use of the title "Son of God" acknowledges that Christ was conceived and born of a woman (and without the involvement of a man) by the power of God. That this truly happened is affirmed by the apostle Peter:
For we did not follow cleverly devised myths when we made known to you the power and coming of our Lord Jesus Christ, but we were eyewitnesses of his majesty. (2 Pet. 1:16, ESV)
Peter's declaration (together with other similar New Testament statements) provides clear, evidential refutation of all assertions that the story of the Incarnation, including Jesus' virgin birth, is a myth or legend. The fact of the virgin birth testifies to the miracle of a supernatural conception by God's own divine, personal creative act. The birth of Christ was natural and normal in every way, including the full period of human gestation in Mary's womb. For Jesus to redeem every aspect of human existence, he had to assume it all—overcoming all its weaknesses and regenerating our humanity in himself from beginning to end. For God to heal the breach that evil had brought between himself and human beings, God had to, in himself, undo what humankind had done.
For God to reconcile himself to us, he had to come himself, reveal himself, give himself to us, then take us to himself, beginning from the very root of human being. And that is precisely what God, in the person of the eternal Son of God, did. While remaining fully God, he became fully one of us so that in and through him, we might have fellowship and communion with the Father, in the Son, by the Holy Spirit. The author of Hebrews refers to this stunning truth with these words:
Since… the children share flesh and blood, he himself likewise shared the same things, so that through death he might destroy the one who has the power of death, that is, the devil, and free those who all their lives were held in slavery by the fear of death. For it is clear that he did not come to help angels, but the descendants of Abraham. Therefore he had to become like his brothers and sisters in every respect, so that he might be a merciful and faithful high priest in the service of God, to make a sacrifice of atonement for the sins of the people. (Heb. 2:14-17, NRSV)
In his first advent, the Son of God, in the person of Jesus of Nazareth, literally became Immanuel (God with us, Matt. 1:23). The virgin birth of Jesus was God's declaration that he is going to set all things right in human life, from beginning to end. In his second advent, which is yet to occur, Jesus will overcome and vanquish all evil bringing an end to all pain and death. Looking forward to that great day, J.R.R. Tolkien wrote that "the birth, death and resurrection of Jesus means that one day everything sad will come untrue." The apostle John put it this way: "He who was seated on the throne said, 'I am making everything new!'" (Rev. 21:5).
I have seen grown men cry as they witnessed the birth of their child. We sometimes refer to "the miracle of childbirth," and rightly so. I hope you see Jesus' birth as the miracle of the birthing of the One who truly is making "everything new."
I pray you have a joy-filled Advent as we await our celebration of Jesus' virgin birth at Christmas,
Joseph Tkach
Daphne Vidal, one of our members in Dominica, sent the note below, thanking her GCI brothers and sisters for helping GCI's Dominican members recover from the devastation caused by Hurricane Maria.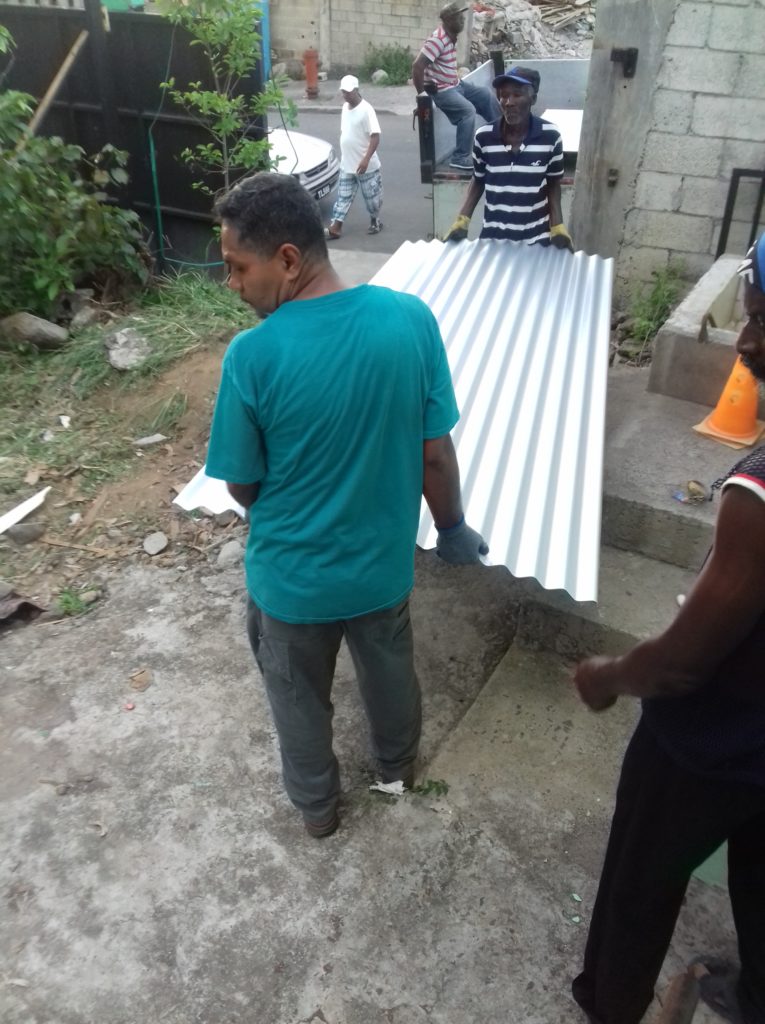 Andy Williams (in turquoise shirt) helping distribute building materials
Warm greetings from the Nature Isle of Dominica. Nature is healing the wounds inflicted by Hurricane Maria and we can see hope in the leaves returning to what was once a beautiful rainforest. We are greatly encouraged by this sign. The Forestry Division will soon begin to implement the reforestation plan.
We joyfully report that we have received 250 galvanized sheets and 250 lumber planks purchased by members in Trinidad with money sent from GCI's Disaster Relief Fund administered by folks in the Glendora office. We are truly grateful for this cooperative effort by different groups within the GCI family. We are finalizing with members their exact needs so we can start distribution next week so they can repair their roofs.
We also received the supplies sent by our GCI-USA family in Florida. From that we were able to prepare care packages for all the members and a few persons in need. Most of the packages were distributed today. While supermarkets and business places are open, persons in outlying districts do not always have easy access to supplies. We have also been blessed with the help of Andy Williams from the GCI Orlando congregation. We put him right to work and he was able to assist in clearing and offloading the building materials and supplies from the port.
A special thank you to our GCI family for blessing us during our time of need.
This update is from Rex Morgan who pastors the GCI church in Auckland, New Zealand, and manages the GCI New Zealand office.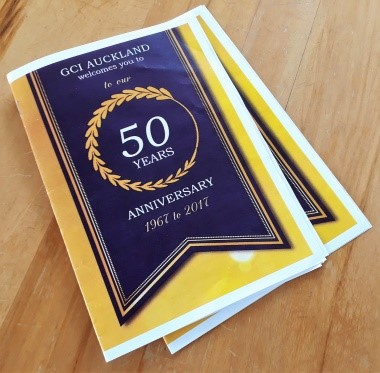 Fifty excited people attended the 50th anniversary of GCI's Auckland congregation on November 4—50 years to the day after its inaugural service. The event was held at the Mt. Eden hall where we have been meeting regularly for services the past 15 years.
After three baptizing tours in the early 1960s, Graemme Marshall came to live in New Zealand in 1967. On September 7 of that year, the first WCG Bible Study was held in Auckland, at the Workingman's Clubrooms in Kitchener Street. The first Church service took place on November 4, 1967, in an upstairs room in Queen's Arcade.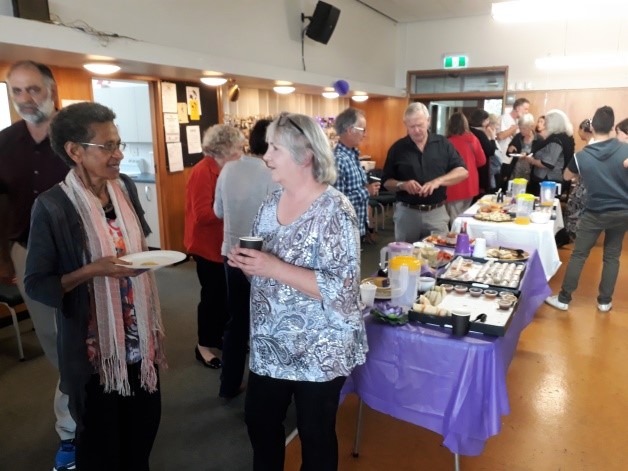 Fifty years later, lots of memories came flooding back to mind as members past and present enjoyed renewing old acquaintances and comparing stories. There was plenty of "mix and mingle" time, pleasantly enhanced by a delicious and abundant finger-food lunch. I read out messages of greetings from members unable to be present, including Don and Alix Engle, Gary and Pam Harvey, Kerry and Anne Gubb, Rod and Ruth Matthews, Bob and Sandy Morton, and Kerry and Anne Gubb. Rod's message encouraged the attendees to "look around at one another, think of those who went before us and recall that we are but a part of a spiritual body so much bigger, immortal, as yet unrevealed, but flowering plants in the garden of God. We celebrate together this golden anniversary milestone on a journey as yet unfinished but with a sure destination."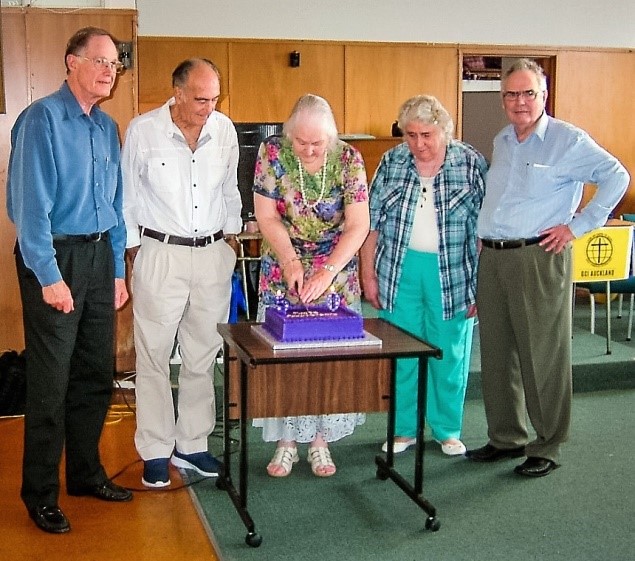 Brief addresses were given by David Wong, Barry Nottingham, Robert Thompson and National Pastoral Director, Dennis Richards, reminiscing on incidents and lessons gleaned during half a century of history. Then we watched a video from GCI President Joseph Tkach. Following that (see picture at right) an anniversary cake decorated in our theme colors of purple and gold was cut by five members present at the inaugural service: Barry Nottingham, Rex Morgan, Jeannette Findlay, and Noreen and Robert Thompson.
I noted in my address that 50th anniversaries are referred to as "golden anniversaries"—a reminder to us of how God is refining our character into spiritual gold for his everlasting temple at the center of the New Jerusalem, which is described as being made of pure gold. It was a wonderful day of golden memories. No one wanted to leave.
The December "GCI Equipper" looks back at our journey of renewal in 2017. Here are links to the articles and sermons in that issue:
From Greg: A look back at 2017
Greg Williams takes a look back at our journey with Jesus as seen in the issues of Equipper published this year.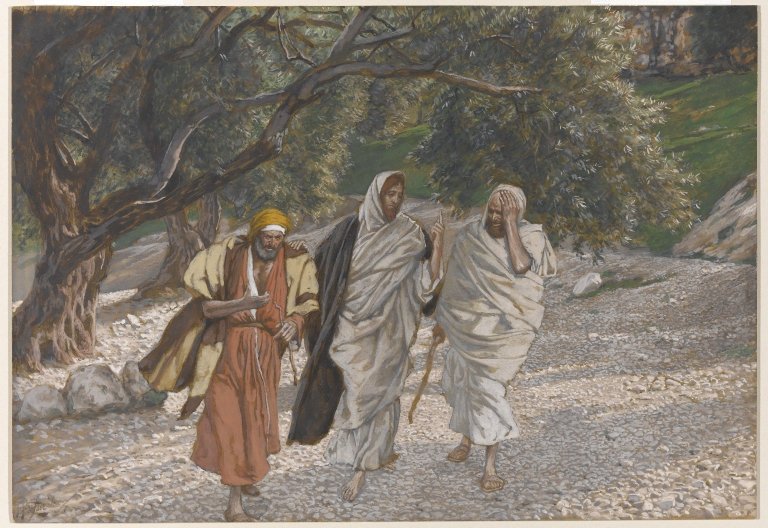 Wholehearted, part 1: Finding Fellowship in Jesus
Cathy Deddo presents part 1 of a 2-part essay addressing the nature of the Christian life.
Kid's Korner: Focus on the child
Lance McKinnon shares an encouraging message about the love the Father has for the kids we minister to as parents and youth ministers.
RCL sermons for January, 2018
Here are the Revised Common Lectionary-synced sermons for January:
– Sermon for January 7
– Sermon for January 14
– Sermon for January 21
– Sermon for January 28
In case you missed the sermons for December, here they are:
– Sermon for December 3 (Advent 1)
– Sermon for December 10 (Advent 2)
– Sermon for December 17 (Advent 3)
– Sermon for December 24 (Advent 4)
– Sermon for December 31
We were saddened to learn of the recent death of GCI member Mary Terry, mother of Pam Morgan, operations coordinator for GCI Church Administration and Development and wife of GCI Treasurer, Mat Morgan. Here is a note from Pam:
Mary with her granddaughter Jessica Morgan
It is with a heavy but peaceful heart that I write this. My mom, Mary Terry, died peacefully in her sleep early in the morning on November 16. She was an amazingly strong and faithful woman—a prayer warrior and a great example of unconditional love. She will be missed greatly, but I know she is in a much better place. A few days before she died, she told Mat, "I am moving." When Mat asked her, "Where?," she said "Upstairs to be closer to God." I so appreciate all your prayers.
---
Mary's funeral will be held on Sunday, December 10 at 3:00 p.m. at Friends Church (where GCI's Grace Life Church meets) at 827 S Lone Hill Ave., Glendora, CA.
Cards may be sent to:
Pam and Mat Morgan
PO Box 1221
Glendora CA 91740

Thanks for praying for Cecil Pulley, GCI's pastor in Bermuda (click here for the original prayer request). Here is a joyful update from Cecil's wife, Senior: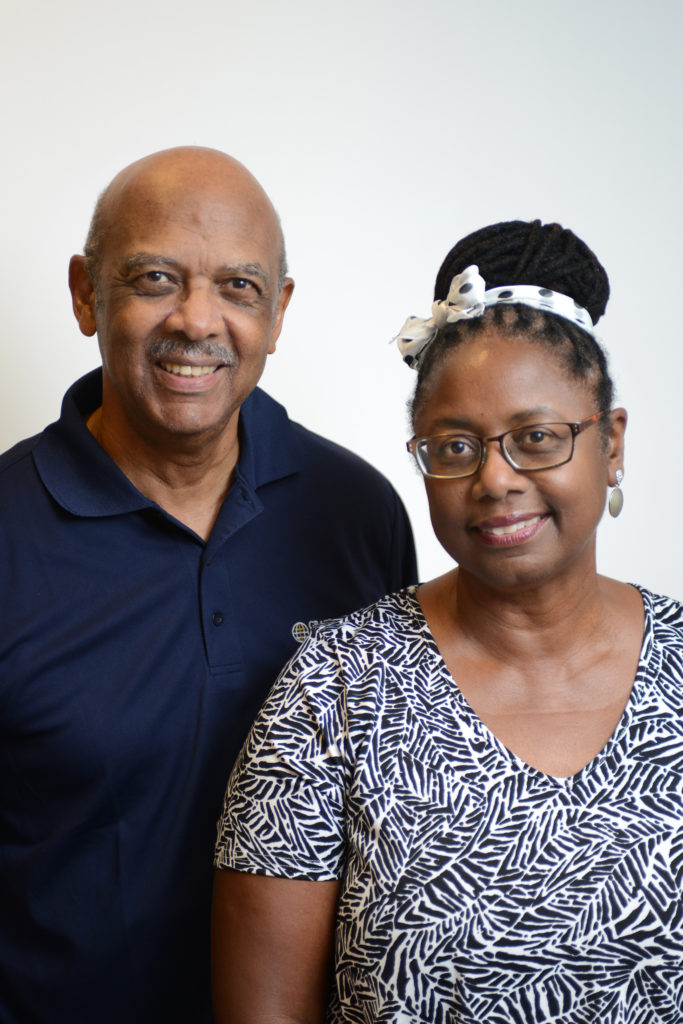 Cecil and Senior Pulley
We are overwhelmed and speechless, not only because we have received so much love from our GCI family, but because our heavenly Father has answered our prayers—doing more than we could ask or imagine!
Cecil, our son Seth, and I travelled to Boston, where doctors at Lahey Hospital concurred that there seemed to be at least two blockages, which could hopefully be repaired by the insertion of stints. To make a long, amazing story short, on November 29, in the midst of a coronary angiogram, the doctors could find no place to place a stint. In fact, they could find no sign whatsoever that Cecil had suffered a heart attack! Earlier tests (which had confirmed a blockage) were redone, yet there were no signs of any blockage or heart disease. In fact, he was told that he had good, clean arteries!
The doctor's instruction to Cecil was that he needed to get some much-needed rest, as stress sometimes mimics such drastic symptoms. Cecil is wholeheartedly taking those instructions to heart!
We wish to thank our GCI family for the phone calls, prayers, notes and love in standing with us during this trying time. Our God is indeed an amazing God!
Cards may be sent to:
Cecil and Senior Pulley
P. O. Box MA 350
Sandy's MA BX
Bermuda
Prayer is requested for Rannie Childress, lead pastor in GCI's congregation in Attalla, AL. Rannie is hospitalized with pneumonia in one lung, resulting in extreme shortness of breath. He is retaining lots of fluid and they are treating him with antibiotics and steroids.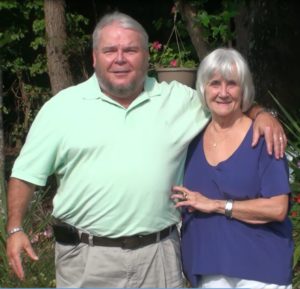 Rannie and Shirley Childress
Though he is doing a bit better, Rannie's battle with illness continues. As he noted in an email informing people of his illness,
Christ is with us in good times and bad, including times of good health and bad. Let us trust our mighty God to move into, not around our troubles, and let him show us once again his mighty, awesome power!
Cards may be sent to:
Rannie and Shirley Childress
170 Grayton Street
Springville, AL 35146
GCI Media recently published videos of several presentations at the GCI Denominational Conference (We Are GCI) held last August in Orlando, FL. To access a playlist of those videos on YouTube, click here. The first video, a presentation from Dr. Gary Deddo, is embedded below.
On YouTube at https://youtu.be/a4bhGiQsxYc.
Each month we publish a prayer guide on the GCI Facebook page at www.facebook.com/WeAreGCI. To download the guide for December, click here or on the picture below.