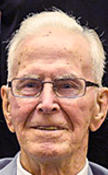 We are saddened to learn of the recent death of GCI Elder, John Hillerson on April 10 at the age of 100. John was born in 1914 and grew up in Luverne, North Dakota, on the family farm. He served in the US Army during WWII, then in 1942 married Elaine Vig. They had five children. Elaine died in 1960. In 1961, John married Mary (Beckman) Raaum, who died in 1996. In 1997, John married Arlene (Ingram) Gudmanstad, who died in 1999.
Following an honorable discharge from the military, John farmed for several years. He then worked for the North Dakota Credit Union League. He was a longtime resident of Fargo, North Dakota where he was involved with many career and civic organizations, receiving awards from several, including the American Cancer Society. John later was employed with the North Dakota Vocational Rehabilitation until he retired in 1978. In retirement, in addition to serving GCI as an elder, John was a member of the American Legion and a small aircraft pilot.
John is survived by five children, three step-children, and many grandchildren and great-grandchildren.