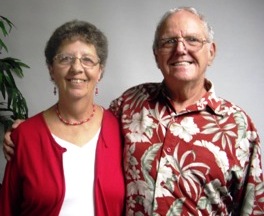 Don Hussell, GCI Senior Pastor in Ripley, West Virginia, lives 300 yards from where he was born, on the farm his parents built. He was an only child who learned early how to play by himself and how to work hard. "I am part of the Boomer generation and we breathe work. I don't think about it, it just happens." His primary responsibility at an early age was to carry water to his home from the spring on the other side of the hill. He never looked forward to washday, saying, "Mom used way too much water."
Married to his wife, Alice, for 47 years this November, Don and Alice have one son, one grandson, two granddaughters and one great granddaughter. Don gives much of the credit for his ministry to his wife Alice. "I would not be who I am today without her full support."
When asked how he became a GCI pastor, Don shared that he simply moved through the process. He first served as a deacon and then became a youth pastor for about six years, conducting large youth events on his farm. In 2004 he became the senior pastor – a feat he claims was the result of "12 long difficult years of misery" in Spokesman Club, which helped him overcome his fear of speaking. "God knew what he was doing because fear was actually keeping me in bondage of being used by God." In 2003, Don was leading a small group in a small town and they decided they wanted to be a church. Don was asked to be the pastor in 2004.
Don loves being a pastor and loves preparing messages. His pastoral passion is "to help people know who they really are in Christ… watching the Holy Spirit bring new revelation to a person and watching that person grow in Christ."
Many of Don's most memorable moments deal with the youth, "taking them to events and watching them come to a place in their lives to believe the gospel and accept Jesus as Lord… to be there when a youth you have been working with comes to that place and says, 'Jesus is Lord, and from this day he is my Lord.'"
A highlight in Don's ministry was going to Uganda and helping a pastor build an orphanage. Don invited the pastor to his congregation and the pastor shared a dream of building an orphanage and said he needed $21,000 to build three buildings for the orphanage. "I just felt led to get up in front of our small church of 25 and say I think we need to help this pastor fulfill what God has called him to do," Don shared. His small church raised more than $50,000 for the orphanage. Sometime later, Don visited the orphanage in Uganda. He has many stories of his trip there that he loves to share with those who ask.
When asked when he feels closest to God, Don responded, "When the opportunity comes that I can tell people about the true God who loves them more than they think… it is at this time that I reflect on what God has done in my life."
Don's interest with GCI started in 1980 through The Plain Truth magazine. He has loved the journey Jesus has taken him on. "Being part of the whole process of the transformation… living in legalism, and watching God work with us in that, then being part of the process of transformation… to me it is the reality of following Jesus… we just follow where he leads us by the Holy Spirit."