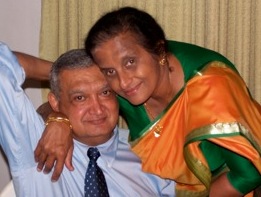 Mohan Jayasekera is the pastor of GCI's congregation in Perth, Australia and the director for GCI in Sri Lanka.
Mohan was born and raised in Sri Lanka and has been married to Nihara for nearly 40 years. They have three daughters, Shehana (married to Peter Edalere), Niranga (married to Milinda Warakaulle) and Nilakshi (married to Shehan Alwis). They also have one son, Rukshan, who is single. All of their children are actively involved in GCI. They also have three grandchildren, Tyana, Taryk and Keara.
Mohan grew up in a large but close family near Colombo, the capital of Sri Lanka. His father was an attorney, as well as a civil and structural engineer who headed up the Public Works Department of the government of Sri Lanka. "My dad was a wonderful and committed Christian in a mostly non-Christian environment." Sri Lanka is officially a Buddhist country. Mohan's grandmother was Dutch so Mohan was reared in the Dutch Reformed tradition of Christianity.
Because of Mohan's father's success, Mohan was able to attend one of the best schools in Colombo, Sri Lanka. His father "encouraged us to do our best in the classroom as well as the sports field, but to never forget who we were." That encouragement paid off as Mohan and his brothers succeeded in the classroom as well as in the sports field, especially in cricket.
While a teenager, Mohan's father sent him to study in the UK and it was there he heard the World Tomorrow program. "I was drawn through this contact to acknowledge the sovereignty of God and the authority of scripture in my life and I accepted Jesus as my personal Savior and began my personal walk with God as a member of the WCG in 1966/1967."
When Mohan returned to Sri Lanka, his father became "quite concerned with one of his sons being religiously odd." The Jayasekera family was well known in the little island of Ceylon and it wasn't long before many knew of Mohan's beliefs. Mohan had always done well in cricket and he was soon playing for the Sri Lanka team. When he told the team he would not play on the Sabbath many fans and spectators who knew of his commitment became concerned about their team. During an important final for Mohan's cricket club, a section of the crowd who weren't at all pleased that Mohan was not going to play in a final match began to chant. "Matthew, Mark, Luke and John – have got a hold on our Mohan." Mohan says he felt like crawling into a hole in the ground.
Mohan's father talked to him quite a bit about "this odd sect" he had become part of, but he always made it clear his relationship with his son was more important than differences in beliefs. He tried to talk Mohan out of going to Ambassador College, but when he saw how committed Mohan was, he gave him his full blessing and told Mohan he would always be there for him.
Mohan, who always had a close and loving relationship with his father, said his dad was really his mentor. "He loved his family and friends… he loved his Lord and the church he grew up in…. He loved his country and was a friend and servant to all."
Mohan began serving the church (then WCG) in Sri Lanka in1969 with Richard Frankel who lived in England and who looked after the work in Asia. Speaking of Richard, Mohan said, "He was one who modeled love to family and service to the church and taught me servant leadership by example." Mohan's work with UTA French Airlines often took him to London and he had no baggage restrictions. So he was able to transport mail and magazines and tithes and offerings back and forth between Sri Lanka and the London office. Mohan also helped organize the festivals in Asia.
Mohan began pastoring the church in Sri Lanka in 1977 after being ordained an elder. At this time he was the Inflight Services Operations Manager and later Regional Administrative Manager for UTA French Airlines. This position opened some doors and enabled Mohan to get some things done for the church. The church in Sri Lanka was officially registered in early 1978. "This was/is no easy task in a country hostile to Christianity – subtly and sometimes openly."
In 1982 Mohan was hired to serve as pastor of the church in India and Sri Lanka and was also responsible for visiting Pakistan, Afghanistan, Nepal, Bhutan, Bangladesh and the Maldives. "We had established a church office in Colombo in 1981 and were mailing literature to all these countries. Radio Ceylon and Radio Maldives both broadcast the World Tomorrow on short wave and the mail came to the office in Colombo." Mohan visited these countries many times over the space of a few years. "I shall never forget going to Kabul, Afghanistan to visit two people there in 1983 during the days of the Russian occupation. It was a time when English-educated people there were looking for any opportunity to get out and I felt that the people I met were hoping we could help them do so!"
Mohan said he learned a great deal from visiting so many places in these countries. "The greatest lesson I have learnt and one which I try to follow is what Jesus taught when he said that he was sending us like 'lambs among wolves' and directed us to 'be wise as serpents and harmless as doves.' Someone in Asia once told me several years ago that many good-intentioned Christians actually turn Jesus' instructions around and become wise as doves and harmless as serpents in their mission efforts. Sadly, in my years working in Asia I have seen many examples of this."
When he was first hired, Mohan was told to try to visit all the members in India at least once a year. He did his best. "I have been to many remote places in India travelling in many interesting ways (including on the roof of trains and bullock carts) and sleeping in areas so remote that the only place to sleep would be an ashrams (places where people go to live separately from the rest of society and practice the Hindu religion) to get to see the members."
"In such travels the presence of God was so real to me on so many occasions, as I do not speak any Indian languages. The boldness and willingness that I was most certainly blessed with through the Holy Spirit on numerous occasions to be with God's people – simple folk who are indeed the salt of the earth – gave a very deep sense of inexpressible feelings of joy to me."
Mohan talks about one relationship he had with William and Maria Ouderland. William was a leader of the Dutch resistance movement in WWII and a highly decorated freedom fighter in the Bangladeshi war of independence. He was manager of the Bata shoe company in Dhaka during the Bangladeshi struggle for independence and nationhood. "People like the Ouderlands and so many others I have the privilege to serve in Western Australia and Asia (Pakistan, Nepal, India, Sri Lanka), are truly wonderful examples of Christianity and remind me of those described in Hebrews 11:37-39. I so enjoy this part of my pastoral ministry."
When asked what he loves about GCI today, Mohan said, "I have been so invigorated by growing in understanding of what God has opened our eyes through the Holy Spirit to see. I am passionate in presenting the message of how good the Father is in including us and giving us full rights of sonship through Jesus and sharing with the brethren the joy of salvation. Recently I have been blessed to be invited to teach classes in September at the Colombo Theological Seminary and the Calvary Church Seminary in Sri Lanka." Mohan appreciates our prayers.