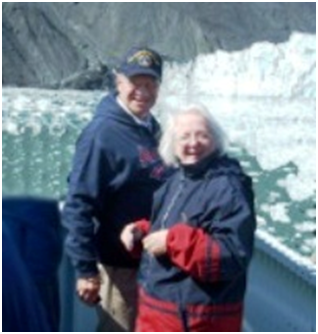 Don Marson has been serving as the pastor of GCI's church in Anchorage, Alaska since 2008. He has been Married to Anne Marie for 49 years and together they have three children (Andrew, Bradley and Lynn) and seven grandchildren.
Don knows the blessings of being a senior citizen in Anchorage. "Every year we're given dozens of delectable, fresh-caught salmon." One of Don's hobbies is to marinade, smoke, vacuum-seal and then to share these delectable fish with others.
Don grew up in Seattle, Washington and graduated from high school in 1955. He served in the U.S. Air Force, including a year in Africa. It was back in Seattle in 1959 that his older brother introduced Don to the Radio Church of God. Knowing Don had a fascination with science fiction; Don's brother gave him the booklet, 1975 in Prophecy. The booklet piqued Don's interest. "I then began to study the Bible and became a Christian and WCG member. Don was baptized in August 1960 by Jim Friddle, Seattle's pastor.
Due to a series of job changes, Don moved his family from Seattle to Portland, Oregon in the 1970s and then up to Anchorage in 1984. Don retired in 2004; at least he thought he did. He was serving as an associate pastor in Anchorage when he and Anne Marie were asked to attend the new pastors' training at the GCI home office in Glendora, California. This was in 2006.
The conference changed Don in a powerful way. "I experienced what I believe was a second conversion, evidenced by the Holy Spirit's work in my life since." Don said he and Anne Marie were curious as to why they were asked to go to the conference. After all, Anchorage had a pastor. But it all made sense in 2008 when the Anchorage pastor resigned and Don was installed as senior pastor.
Don may have retired from his previous employment in 2004, but he is anything but retired in ministry. "I regularly participate with other local evangelicals in an Anchorage Evangelical Pastors Fellowship, encouraging and praying together. In addition, I enjoy breakfasting with similar 'Old Geezer Pastors,' weekly at a nearby restaurant. And, my wife and I are involved in volunteer work with the Anchorage Love, INC (In the Name of Christ) organization, serving neighbors in need. Love, INC is one of the missions that our congregation supports along with the Bengali Evangelical Association."
Don said he loves serving and leading "our small, harmonious congregation together in Jesus' love, peace and joy." Further he loves the community he serves, with "its unique people and fantastically beautiful State of Alaska."
When asked what Don enjoys about being part of GCI, he said, "The realistic and absolute assurance that God is peacefully, faithfully and lovingly leading me and others along his positive journey towards eternal life with full conviction of assured, promised salvation." This ties in with his passion "to faithfully follow God with firm conviction wherever he leads, and encouraging others as well."
Don then listed some of his small congregation's blessings—already in 2012 they have had one baptism, two new members join and the commissioning of a new ministry leader. "Praise God and the ongoing work of the Holy Spirit," Don said.
Don's most memorable moments as a pastor have to do with receiving God's affirmation. "I frequently experience the unplanned alignment of my sermon with the message of a Speaking of Life video or a worship song presented in the church service that day. Things like this reassure me that God is leading, and that's exciting, to say the least!"
Don and Anne Marie feel blessed to be serving God's beloved in Alaska. He loves his job, his community, his congregation, his beautiful state, and his relationship with God. Don said he feels closest to God while in the Word and in prayer. "In particular, when studying carefully and being deeply inspired by his Word from various sources. He is so real, so encouraging and gentle."