We were saddened to learn of the recent death of Jim West, a long-time WCG/GCI employee and elder.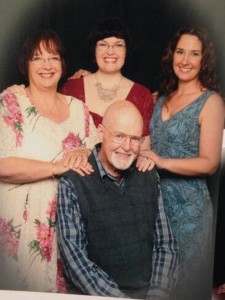 Jim died of heart failure on December 1, just short of his 76th birthday. His wife Madeline wrote, "He apparently knew his time was over in the earthly realm because he blessed each family member on Thanksgiving. It was as if he was saying goodbye."
Jim majored in engineering at Portland State College and served for six years in the Oregon National Guard as a squad leader. In the mid-1960s he began working in the printing industry in Portland. He was hired at the Ambassador College Press in Pasadena in 1969 and moved his family to California where he began employment as a pressman and later advanced through various supervisory roles until reaching Print Buying Manager in WCG's Publishing Administration. After Plain Truth Ministries separated from WCG, Jim worked as a circulation analyst for PTM until his retirement in 1997, having worked for our church and affiliates for 28 years.
Jim and his wife Madeline and daughters Rhonda and Michelle (pictured above) made their home in San Dimas, California for many years, and became pillars in GCI's Glendora congregation. Jim was ordained an elder in 1995. The family was active in Spokesman and Graduate Club, Women's Ministry, YOU and just about every other activity the church offered. The family moved to Kentucky in 2004.
Cards may be sent to:
Madeline West
11298 Franklin Road
Franklin, KY 42134