We were saddened to learn of the death on August 12 of Betty Shamus, wife of GCI-San Jose, CA, elder Larry Shamus. Here is information about Betty from an obituary distributed at her memorial service.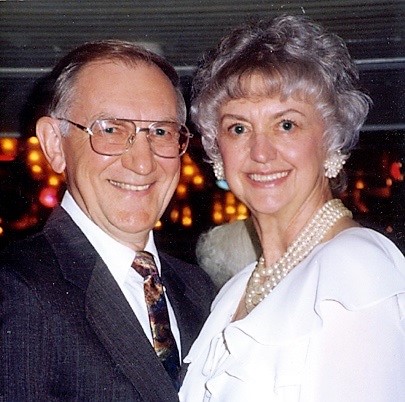 Beatrice Rachel Cimorelli was born on June 4, 1933 in Philadelphia, the third child of Hercules and Nora Cimorelli. She was born with dark ringlet curls all over her head, so the nurses nicknamed her "Betty Boop." From then on, she thought her name was "Betty." When she went to kindergarten and the teacher called her "Beatrice," she had never heard it before and assumed that you were given a new name when you started school.
When Betty was 12, her family moved to Pennsburg, PA. After quitting school following the 8th grade, she worked in a sewing factory, an upholstery shop, and later at a hoagie shop. At age 20, Betty married the love of her life—Larry Shamus. Larry was in the Navy, so they lived in several states early in their marriage. Betty and Larry welcomed another new baby each time they moved, so after Larry, Carol, Mike, Marilyn and Jeff were born, they decided to stop moving and put down permanent roots in San Jose, California.
A model wife and mother, Betty filled her home with laughter and love, selflessly devoting her time to caring for her growing family. Neighbors, church friends and extended family were drawn to her boundless enthusiasm, creativity, and fun. Betty's children, grandchildren, and great-grandchildren delighted her beyond measure. Her legacy of love will live on in the smiles, laughter, and memories of those precious children and all who were lucky enough to share her incredible life.
Betty was a devoted Christian, serving God, her family, and her church. She lived by the words of her favorite scripture, Proverbs 3:4-5: "Trust in the Lord with all your heart, and lean not on your own understanding; in all your ways acknowledge Him, and He will direct your paths."
Cards may be sent to:
Larry Shamus
1332 Crestwood Dr.
San Jose, CA 95118