Dear Brothers and Sisters in Christ,
Glendora, California
On May 7, the New Covenant Fellowship of Glendora, CA celebrated its 14th annual "Hispanic Heritage Day and Cinco de Mayo" celebration.
Cinco de Mayo (May 5) commemorates a major battle outside Mexico City in 1862 when a French army was turned back from occupying Mexico permanently and threatening to undercut the effort of President Lincoln to reunify the United States. This year Assistant Pastor Paul Tellez explained why Americans of Hispanic descent celebrate this day with such gusto and how it points to the need to relate to each other and appreciate each other as part of that great multicultural community we see in Acts 2 — the Church. Our Mexican-American members hosted the event with decorations, lively music, special food, themed messages and the annual smashing of the piñata by the children.
Photo captions: 1. Pastor Neil Earle with children on Glendora Church's 14th Cinco de Mayo service 2. Auryn McNally goes for a whack at the pinata 3. Glendora cuties line up in their "piñata hats"
---
Canadian Update
Gary Moore sent this inspiring note from Alan Redmond about a major award given to Sandra Norris, wife of Charles Norris, one of our elders in the Winnipeg congregation. I have mentioned the wonderful work of Hands of Hope that operates in Winnipeg in previous updates, and want to add our congratulations to Sandra for the wonderful way she has yielded her life to the Jesus Christ. The love of God expressed through her for those less fortunate is indeed transformational and inspiring!
From Alan: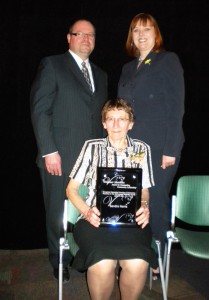 On April 27, 2011 Sandra Norris was presented an award for Community Leadership at Volunteer Manitoba's 28th Annual Awards Dinner in Winnipeg.

Carolyn and I attended the celebration. Also the Premier of Manitoba was present at the Winnipeg Convention Centre along with Federal and City politicians.

In 2000, Sandra and her husband Charles began taking furniture to the less fortunate in Winnipeg. In 2002 Hands of Hope was incorporated as a charity with support from the Winnipeg church, now called Grace Christian Church. As the organization grew, Charles and Sandra received a salary, but in addition worked many extra volunteer hours.

After operating out of a donated building with no heat or electricity, Hands of Hope was able to get a piece of land from the City of Winnipeg and funding from the Provincial and Federal governments to build a warehouse, which officially opened in September 2005. Sandra and Charles sold their home in the country and moved to Winnipeg in order to better serve the community.

Since its humble beginnings, Hands of Hope now employs five full-time staff and networks with social workers, the Health Sciences Centre, half-way houses, refugee centers, women's shelters and other organizations. Two years ago, Sandra gave up her position on staff and now continues to serve as a dedicated volunteer. Sandra is a remarkable, deserving recipient of the Volunteer Manitoba award for Outstanding Community Leadership.
---
Update from the UK
SEP UK is a two-week summer activity for young people aged 12-17. It's located on the banks of Loch Lomond, about 40 miles north of Glasgow. It offers a range of about 20 activities and welcomes young people of all denominations and none. This year it runs from July 31 to August 13. (The early booking discount has been extended to May 16.) For more details, see www.sepuk.org. Adventure Camp is for 7-13 year olds. It's from August 27-29 and is being held again at Well End Activity Centre, Borehamwood. For more details see www.wcg.org.uk.
---
Prayer Requests and Updates
Update on Martin Manuel's grandson
Jason passed another milestone Wednesday afternoon when the medical staff removed the breathing tube and his body reacted without a glitch. He immediately talked because he had something urgent to tell us, although his throat was very sore. This morning, speech therapists worked with him to determine his ability to speak, reason, and understand. He wowed them. His progress continues to amaze the staff. He already wants to go home, but has more major milestones to pass. This is trying his patience. Still undetermined is the next step for his heart. Will he go on the list for a transplant? What treatment will he need in the short term? He is still in the ICU. Also unresolved is the matter of fluid on his brain. Please include these matters in your prayers as well as Jason's need to cope with all that he must go through. Thanks for your continued loving support.
Cards may be sent to:
Jason Richards
16917 NE 99th Court
Redmond, WA 98052
---
Brendan Terry
We received this note from Mary Terry, Pam Morgan's mother, concerning her five year old grandson, Brendan: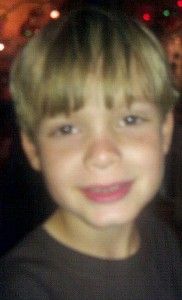 I just wanted to let you know the results of Brendan's chest X-ray. He does not have pneumonia. I believe that God intervened on his behalf. The fever and cough he had for the past week indicated that something was seriously wrong. The staph infection is also clearing up, after only two of the chlorine baths, which is also evidence that God is truly there for us. I can only praise His name and give Him my thanks. Thanks to everyone for their loving kindness for Brendan. Lovingly, Mary
Cards may be sent to:
Brendan J. Terry
137 Poppy Avenue
Monrovia, 91016
Remember that prayer is the battleground where we fight the good fight of faith. Let's encourage everyone to join together in prayer, for we belong to Christ, and by the Spirit it is in Christ that we pray. Prayer and other spiritual activities help keep our hearts in tune with God and remind us of who we are in Christ. He is our all in all, and in him we are eternally beloved of the Father and blessed to share his good news with others.
Love from my family to yours,
Joseph Tkach
---