Dear Brothers and Sisters in Christ,
Caribbean Mission Director Charles Fleming received this email on Saturday from our pastor in Haiti, Joseph Franklin:
We thank everyone for directing prayers from all over the planet toward us in this time of distress. We just received an encouraging message from a former Ambassador College student who visited with us back in 1983. It is wonderful to be so bound together in the love of God.

We had a quiet night last night and this morning. We are able to get online, and even though it is difficult, we are able to communicate with the Jean Renel family in Les Cayes, with Serges Jacques in Saint Marc and with Daniel Leconte in Port-de-Paix. They are all okay. Later on I will send a complete update with photos.

Now we are 13, sleeping under a tent in our front yard. Besides Georgette, Billy and me, we have one family of four from the church and another six of our relatives. From time to time the house receives a light shock, so we just go in quickly for urgent needs and hurry back outside.

No service is available as yet. I still need to get one generator to recharge my six batteries. These cost 1000HTG, the equivalent of 25USD. This is our only availability to have light and keep our computer running. Every few hours another aftershock comes to do more damage to what is still left of houses and buildings. It is highly recommended not to walk around the streets because of hundreds of corpses are decaying under the debris.

It will take some time to gather enough details for a complete update. Thank you for joining me in praise to our Lord Almighty who has kept us alive a little longer for his purpose. In Jesus' mission on earth, the cross precedes the crown.
---
Papike Lebelo
Africa
Please join me in thanking God for providing more leadership in Africa. Papike Lebelo, shown here leading worship at church, was ordained an elder at a church service at Sizwe hospital in South Africa.
---
2010 International Pastors Conference Registration Discount Deadline Reminder
At 9:00 am on Friday, January 29, registration will be opened to our elders and members. At that time the pastors discount for hotel nights will end, and the pastors registration fee will no longer be waived. You should register before 9:00 am (Pacific Time) on Friday to receive these discounts.
Register before 9:00 am on Friday, January 29, and the denomination will still cover your registration fee and provide you with a $10/night discount for the hotel (for Wednesday through Saturday nights). To register, just click on this link, www.2010.gci.org and it will take you to the conference website. You will then need to click on the "Register" button.
---
Minnesota
From Pastor Doug Johannsen: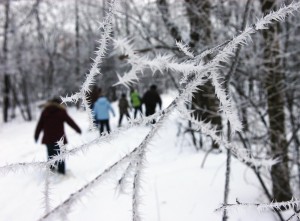 Sixty-five people of all ages from Minnesota, Wisconsin and North Dakota enjoyed Snowblast 2010 at Ironwood Springs Christian Ranch near Stewartville, MN. The event began Saturday, January 16, and ended Monday morning, January 18. The theme this year centered on freedom, making choices, and the consequences of those freedoms and choices.

Activities included snow tubing, snowshoeing, making pottery on a pottery wheel, arts and crafts, making peanut brittle, photography, practicing worship leading, playing cards, board games, as well as indoor arena horse rides and a nighttime sleigh ride, courtesy of two draft horses named Bill and Barney. Recent heavy snowfall made the scenery a winter wonderland.
---
Prayer Requests and Updates
Reconciliation Ministries director Curtis May asked for prayer for his interview this Thursday at 10 a.m. Pacific Time on the "God at Work" program broadcast by Moody Radio in Cleveland. Curtis will be interviewed on the topic "What God is Doing in Reconciliation." He asked that we pray that God would be glorified through the interview.
---
Patama Banks
, wife of Pastor Leonard Banks of our Rochester, NY, congregation, underwent surgery this week at the Strong Memorial Hospital emergency room following an early morning heart attack. Leonard wrote:
Thank you all for your prayers and phone calls. The power of prayer is awesome. All the catheters were removed last night and the heart is pumping by itself.
Cards can be sent to:
40 Fountain St.
Rochester, NY 14620-1902
---
Pastor Steve Posiak of our Salmon Arm, British Columbia, congregation asked for prayer for
Karen Leach
, wife of elder Darcy Leach, who is in the hospital awaiting a blood transfusion due to an extremely low red cell blood count. Karen has been battling cancer for some time, and the cancer is now in her bones, liver and breast.
Darcy's father, Roy Leach, is in the same hospital with a broken shoulder. Roy is also battling cancer of the prostate, which has spread to his bones.
Cards may be sent to:
Karen Leach
2431 Tamarack Terr. RR 2
Sorrento, B.C. V0E 2W2
Canada
Roy Leach
101-810 10thSt. SW
Salmon Arm, B.C. V1E 3L8
Canada
---
Last week's update included a picture of Pat and Cliff Rabe (misspelled as Rage), but the text was not included. Here is the correct copy:
Funeral services were held January 6, at Bergvallei, Muldersdrift, for Pastor Cliff Rabe (78) of our Johannesburg Central congregation. Cliff passed away on Thursday after a short illness. He was diagnosed to be suffering from acute leukemia.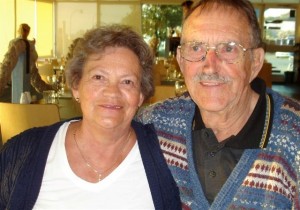 Cliff will be missed by his wife of 48 years, Pat, his children Avril, John, Michael, Giselle, Paul and Jenny, and his grandchildren Dwane, Keri, Jessica, Rochelle, Jonathan, Katelyn and Megan.
Cliff was baptized in August 1969 and ordained an elder in 1989. He served faithfully in many church areas within southern Africa, including Johannesburg Central, Krugersdorp, Klerksdorp, Botwsana, Bloemfontein, Kimberly, Lesotho, and QwaQwa. He loved the word of God and God's creation. Cliff will be fondly remembered for his colorful sermons.
Grant Millar conducted the funeral service.
Cards may be sent to:
PO Box 4093
Helikon Park
1771 South Africa
Remember that prayer is the battleground where we fight the good fight of faith. Let's encourage everyone to join together in prayer, for we belong to Christ, and by the Spirit it is in Christ that we pray. Prayer and other spiritual activities help keep our hearts in tune with God and remind us of who we are in Christ. He is our all in all, and in him we are eternally beloved of the Father and blessed to share his good news with others.
Love from my family to yours,
Joseph Tkach
---