Dear Brothers and Sisters in Christ,
Randy Bloom, director of Church Multiplication Ministries, interviewed Dishon and Afrika Mills, who are starting a new GCI congregation in Randolph, Massachusetts, and District Pastoral Leader Larry Wooldridge, who explained the role of his district in supporting the Mills.
You can view the interview by visiting: http://gci-usa.blogspot.com/p/multiplying-leaders-ministries-and.html.
---
Update from the UK
While in the UK recently for our UK church board of trustees meeting, I traveled to the north of England to attend a most enjoyable outreach event put on by the Northampton congregation. Two pictures below:
---
SEP Luzon 2011: "In His Love"
Philippines
Luzon
The Villa Julia Resort in Silang, Cavite, was the venue for 136 campers and 48 staff for this year's Summer Enrichment Program in Luzon. One camper, Albert Longhurst, came from New Zealand and joined SEP, commuting all the way from Ilocos, where the family was visiting.
---
Santa Rosa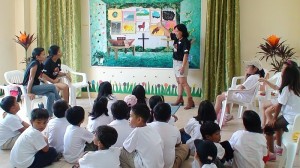 Sixty-seven enthusiastic kids, ages 4 to 12, attended GCI Santa Rosa's Vacation Bible School (VBS), held April 17-21 at the Laguna Bel-Air 3 Learning Center. Most participants were children from the neighborhood, but a number were shuttled daily from Barangay Don Jose, where GCI holds a regular Bible study for children. Grateful parents expressed their appreciation for the outreach activity, which was held in cooperation with the Laguna Bel-Air 3 management, which provided the venue free of charge.
The theme of this VBS was "The Lost World," which highlighted the fallen nature of creation and God's intervention to save the world. It featured dinosaurs, Noah's ark, the Garden of Eden, fossils and other interesting subjects in a safari-style learning experience, which was a hit among the young ones.
The event was spearheaded by National Director Eugene Guzon, who is also the pastor of the Santa Rosa congregation.
---
From CAD: Church Growth Conference
On April 26-29, thirty GCI ministry leaders attended the Exponential Conference in Orlando, Florida. Exponential is an annual resourcing event focusing on starting new churches. Nearly 4,000 people attend from across the US and various international areas. To learn more about Exponential and to register for the 2012 conference, go to www.exponentialconference.org.
You can also view GCI pastors telling about their experiences at Exponential by visiting http://www.youtube.com/watch?v=tseLf1Mmdg8
---
Jamaica
Charles Fleming shared a note from Daniel Graham about a special memorial service for Lateef Edalere.
The memorial service for our late pastor, Mr. Lateef Edalere, held May 1, was an historic service. The Edalere family was all in attendance, including Mr. Edalere's grandchildren. Many former WCG members attended, and the fellowship was very rich and exciting.

Among those giving tributes were Michael Mitchell and Leaford Henderson. Mrs. Anthea Henderson read the moving eulogy. Leroy Joiles delivered the sermon.

The Lateef Edalere Fund was set up in memory of Mr. Edalere, who was known for his love for children.
---
Spain
From Pedro Rufian:
Thanks for your prayers and thoughts for the people affected by the recent earthquake in Lorca, Murcia, in the southeast of Spain. Thanks to God we do not have any members there, but we asked that God may give comfort and encouragement to everyone of those who have lost loved ones, or whose properties have been affected and are in fear without being able to go back to their homes. About 40 percent of the city buildings suffered damage, many of them are reparable. Maybe 10 percent of them will need to be demolished. How is it possible that a 5.4 earthquake has brought about so much damage? The explanation has to be that the collision point of the two plates, the African and the European, was just about 1000 meters deep, very shallow for these types of events. These two geological plates stretch along the coast on an inland band of about 50 kilometers wide from Valencia to Huelva. This area has the highest earthquake risk in Spain.

The members nearest to the earthquake zone, Alex and Maria Luisa Valencia, live about 100 kilometers from Lorca, and were not affected, other than to feel some shaking.

The sister of our church treasurer here in the Madrid congregation does live in Lorca with her paraplegic son who is confined to a wheelchair. They live in an apartment on the fifth floor and could not get outside during the earthquake because the elevator was destroyed. Some hours later, with the help of her elder son and two police officers, they were able to be brought down the stairs. They will stay in another home they have in Aguilas City, about 50 kilometers away, until the apartment building is repaired. Our treasurer, Marivi, and her husband drove about five hundred kilometers from Madrid to Aguilas to be with them during this past weekend.
---
Prayer Requests and Updates
Jewel Love, assistant pastor in Beaumont, California.
Lelia Love requests prayers for her husband, Jewel, who was recently diagnosed with prostate cancer. They will move into Veterans Housing in Los Angeles on June 6 and he will begin radiation treatments that afternoon. They are scheduled to remain in Los Angeles until approximately August.
Cards may be sent to:
Mr. & Mrs. Jewel R. Love
850 Gail Ave
Redlands, CA 92374-2544
---
Jim Meade
Thank you for your continued prayers for Jim Meade, pastor of the GCI church in Port Huron, Michigan, who was diagnosed with serious artery blockages and valve leaking. Last week, while he was not feeling well enough to have open heart surgery, he took the time to get a second opinion. Thanks to God and your prayers, he got in touch with another specialist who feels that he will not need the trauma of open heart surgery, but instead his blockages can safely be handled with stents. This is a far less invasive treatment, so both he and his wife Kim are happy to be able to go this route. He has been feeling better, and so has scheduled the surgery for Monday, May 23.
Cards may be sent to:
3665 Ruddock Rd
Kenockee, MI 48006-4212
Remember that prayer is the battleground where we fight the good fight of faith. Let's encourage everyone to join together in prayer, for we belong to Christ, and by the Spirit it is in Christ that we pray. Prayer and other spiritual activities help keep our hearts in tune with God and remind us of who we are in Christ. He is our all in all, and in him we are eternally beloved of the Father and blessed to share his good news with others.
Love from my family to yours,
Joseph Tkach
---