Dear Brothers and Sisters in Christ,
Charles Fleming reports that Leroy Joiles and Daniel Graham have been ordained as elders in Jamaica. Leroy was installed as Senior Pastor, serving as National Leader for our churches in Jamaica and as pastor of the Christian Pen congregation. Daniel was installed as Assistant Pastor for the Christian Pen congregation. Charles said that both men have done an excellent job serving as pastoral leaders for several years and that it was a pleasure to formalize their roles. They are both much loved by the congregation.
Last weekend, Charles led approximately 25 of the leaders of all four Jamaican congregations in a three-day retreat for integration of spiritual formation exercises and strategic planning. Participants expressed appreciation for the time, and Leroy told Charles that they have already scheduled follow-up sessions.
---
According to George Barna
While more than 66% of Americans say they are either "religious" or "spiritual," just 18% claim to be "totally committed" to engaging in personal spiritual development. Among adults who claim to be Christian, just 14% say their faith in and relationship with God is the highest priority in their life. While 80% of U.S. adults say they are Christian, only 20% contend the single, most important decision they have ever made. Only 22% of adults who believe they are Christian state they live in a way that makes them completely dependent upon God. Other Barna research indicates such dependence only emerges in times of crisis or suffering.
An eight-decade-long research effort found that children of failed marriages died almost five years earlier, on average, than children from intact families. The results of the research are published in a book titled The Longevity Project and provide some sobering insights. "Parental divorce during childhood emerged as the single strongest predictor of early death in adulthood," said the authors. The causes of death ranged from accidents and violence to cancer, heart attack, and stroke. The authors noted that the early death of a parent did not have the same effect on children's lifespans or mortality risk as that of parental divorce and family break-up. (The Longevity Project, by Howard S. Friedman and Leslie R. Martin, Hudson Street Press, & LifeSite News 3/23/11)
---
ORM becomes ORSM
From Curtis May
To broaden the effectiveness of our outreach, we have updated the name Office of Reconciliation Ministries to Office of Reconciliation and Spiritual Mediation. Our brand and our mission will not change, but the new name will enhance our ability to reach out to more organizations as we continue to advance the work of reconciliation, mediation and oneness.

Some have asked what I will be doing now that I have retired. I will continue as director of ORSM. I will also continue serving the church as an elder and board member. Although I will maintain the ORSM office in Glendora, California, most of our work will be done at our new address in Banning, California, which is:

Office of Reconciliation and Spiritual Mediation (ORSM)
300 S. Highland Springs Ave., Ste. 6C #108
Banning, CA 92220
---
Bangladesh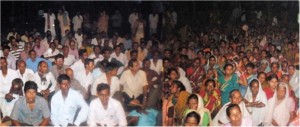 John Biswas reports that by many miracles of God's grace, the church in Bangladesh is growing. In spite of the very difficult climate of hostility, John has recently started two new village churches about five miles from the mission center. We now have 16 churches in Bangladesh. The members of the two new churches either have to meet out in the open or walk the five miles to our mission center. Because of the harsh conditions, this is difficult for mothers with children, so John hopes to construct a multipurpose building for each church. These can be used for our worship services and Bible studies, plus act as shelter when needed. Two photos show an outreach meeting where the men and women traditionally sit separately, and the other two are of the members of our two new churches.
---
Prayer Requests and Updates
Update on Joplin
From Jim Kissee:
Long time Joplin member Veda Wead sustained serious head injuries in the recent tornado, but is recovering well. For nearly a decade, due to health and age, Veda has been limited in attending services or church activities. Dan King, who has been of tremendous service in the aftermath of this storm, found her alive in ICU in Freeman Hospital in Joplin. She had been dug out of her residence by her children and transported to the hospital. However, she was "lost" for two days in the jumble of movement and activity.

Meanwhile, members Don and Shirley Haas sit in what seems like a silent world. As Shirley said, though they are so near, yet they hardly know what has taken place. Don is legally blind, and age limits their movements. Don's son, Calvin, has had four tours of duty in Iraq. He shared that he hadn't seen anything like this. The community of Joplin whittles away to restore the city's heart, and a lot of whittlers are coming from small hamlets, large cities, counties and states to provide strength, support and encouragement.

Please send cards, for now, to the church address and we'll be sure they are delivered. All the Joplin members and especially those directly affected thank you for your prayers.

PO Box 611
Joplin, MO 64802
Remember that prayer is the battleground where we fight the good fight of faith. Let's encourage everyone to join together in prayer, for we belong to Christ, and by the Spirit it is in Christ that we pray. Prayer and other spiritual activities help keep our hearts in tune with God and remind us of who we are in Christ. He is our all in all, and in him we are eternally beloved of the Father and blessed to share his good news with others.
Love from my family to yours,
Joseph Tkach
---