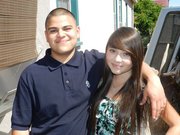 Hector Espinoza, age 18, was killed last week in a gang related shooting. Hector was a new member of Communion De Gracia, the GCI Spanish-speaking church in San Fernando, CA pastored by Heber Ticas.
Though Hector had a troubled past, he was turning his life around. He was a first time camper this summer at SEP SoCal, where he surrendered his life to Christ. His mother Angelica Recendiz said that he came home with great peace and joy.
Please pray for Angelica and the rest of Hector's family, including his sister Adriana, who was admitted to the hospital just before camp suffering from lupus. According to their youth pastor, Hector was a tremendous support to Adriana. He would sleep in the hospital and encourage her with assurance that everything was going to be okay. Three of Hector's cousins attended camp with him this summer: Reyna Flores, Ernesto Flores and Armando Recendiz.
Cards and words of support can be sent to the family at this address:
Angelica Recendiz 10631 Lindley Ave. #136 Northridge, CA 91326