Gary Moore, GCI-Canada director, reports on his recent visit to South Africa:
Wendy, Tim Maguire and I visited Durban, South Africa where we conducted a day long seminar with several church leaders driving a number of hours to attend. On Sunday we enjoyed church services with a packed Durban congregation. As a result of outreach projects over the last several years, the Durban congregation has experienced good growth in new attendees. About 70% of the congregation has begun attending since our doctrinal changes in the mid 90's.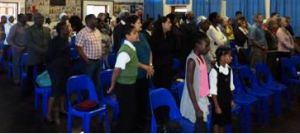 The following Wednesday we attended the monthly SEP camp planning meeting. There was great appreciation passed along to us for the support our Canadian members and congregations provide to this camp in South Africa.