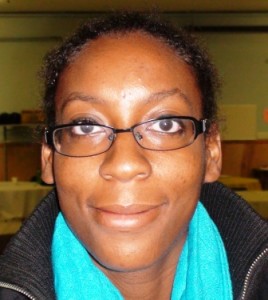 In this occasional feature of GCI Weekly Update, we will profile some of our GCI members. This time we meet Alisha Austin, a young member in our Queens, NY congregation. In addition to her ministry within the congregation, Alisha is busily preparing for a career. Here is what she writes about herself:
I am a recent graduate of Nyack College where I studied English and Cross-Cultural Studies. My program included studying works by Wallace Stevens and Virginia Woolf, and wrestling with topics such as determining whether a country requires aid or development.

My undergraduate degree program intensified my great passion for writing and non-profit work. I am currently designing a Master's degree program that will allow me to study how writing, whether in the form of literature (such as novels or poems), journalism or social media (such as Facebook), can be both a mirror of and a window for social change. I plan to complete this program at NYU's Gallatin School of Individualized Study.

Besides being a person who loves writing and reading, I also enjoy volunteering, and running. So far, my volunteer opportunities have included working with a ministry for the homeless, a women's outreach group and a coffee and tea festival. I ran college level cross country and currently give five mile and longer tours to runners from around the world. So far I have had the opportunity to run with people from France, South Africa, Germany, Canada, Minnesota, Louisiana and Ohio.

Some of my goals in life include being a college professor, traveling around the world, participating in marathons, triathlons, and being a writer and photographer for National Geographic. Besides that, I've been thinking about writing a significant literary piece.

I think learning and exploring are two things that will always be a part of my life; I think it is a vital part of the human experience.
God bless you Alisha! We're excited about your future in our Lord's service to humanity.