The following is from Gary Moore, GCI director in Canada.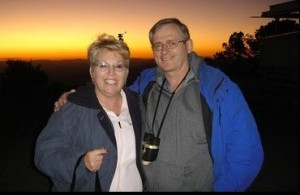 We are saddened to announce the death of Anne Robey-Graham, wife of Gordon Graham who pastored GCI churches in Canada for several years. To read Anne's obituary, click here.
Gordon and Anne lived in Arizona for the last several years. Here is a short note from Gordon:
Anne and I had a wonderful marriage for five years less one week. I am returning to work as a research professor at a university in Arizona on January 9. I have learned that it is better to be engaged in meaningful work than to face empty days. I have stopped trying to plan life out in great detail, so who knows, I may see you all again in the years ahead!
If you would like to send a card or note to Gordon, his address is:
Gordon Graham
6607 E Saddleback Street
Mesa, AZ 85215