The following update on Jason Richard's condition was sent on February 11 by his grandfather, Martin Manuel. It updates us on what was reported last time.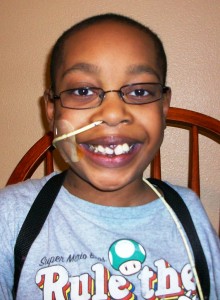 It is with smiles on our faces and joy in our hearts that we report that Jason returned home today feeling good and strong. The doctors are not sure of what triggered last Sunday's episode; they found his PICC line (an IV that carries medicine) out of place and moved it yesterday. Although these adventures are difficult for all of us, especially Jason, we see the benefit of having more thorough examinations than he can receive at home or in monthly outpatient clinic reviews.
While in the hospital, Jason told us that he can now take the shots, IVs, blood draws, and dressing changes without pain. He was awake during the procedure yesterday and took it all in stride. That is tremendous progress! He is now much more prepared for his heart transplant when it comes.
Your prayers mean so much to Jason and all of us, for we know that our wonderful Father, Son and Spirit hear and act upon them. We look forward to reporting what we hope is the next step – the transplant.
Thank you! And praise our God!
Martin