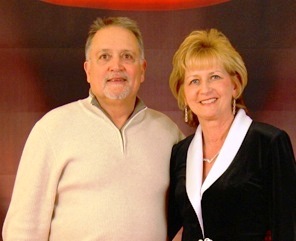 "My father died when I was four years old," shares George Hart who is a district pastor and the senior pastor of GCI's Cincinnati East congregation. "Growing up without a father had a tremendous impact on me. It caused me to become very self-sufficient."
"I started working when I was eight years old, trucking tobacco with mules. At sixteen I bought a new car and was able to pay my way through school. If I needed or wanted something I bought it myself. My self-sufficiency served me well for years until it all came crashing in on me about ten years ago.
"My self-sufficiency had become my messiah and a roadblock in my relationship with the Father. I never knew I had a Father until one night he showed up and revealed himself to me through Psalm 146. He had been with me all those years and I never knew it. It was an experience that changed my life. I still struggle with my self-sufficiency, but my Father has been patient with me."
Growing up in eastern North Carolina, George fell in love with the beach. "When I was in high school my buddies and I went to the beach almost every weekend in the summer, sometimes sleeping in the car or on the beach. I've always loved the coast and today it is where I feel closest to God. I can walk the shore or just sit and watch the surf for hours. There is something haunting and mystical about the ocean that calls to me. My favorite place is Ocracoke, on the outer banks of North Carolina. It's about a two and a half hour ferry ride to get to anywhere."
George came into contact with WCG in December 1973. "I used to listen to Cousin Brucie on radio station WABC out of New York City. One night I could not pick up his broadcast so started searching the dial for something to listen to. I came across a broadcast of an older gentleman–HWA (Herbert Armstrong) and the first words I heard out of his mouth were, "Why were you born?" Those words resonated with me at a deep level because that was something that I had been thinking about for about two years. I continued to listen to HWA for several months. At the end of each broadcast they would mention Ambassador College. In spring 1974 I wrote for an application and was accepted for August 1974. I had not attended a church service or really knew anything about the church before showing up in Big Sandy, Texas. In the first several months I almost left a dozen times but felt in my spirit this was where I belonged and where I would discover 'why I was born.'"
The first sermon George heard was about makeup. "I don't recall whether makeup was coming in or going out, and I thought it was a strange topic. However, what struck me was a willingness to change when you thought you were wrong. That willingness is inherent in our denomination and led to an examination of the Bible under Joseph Tkach, Sr. The rest of that story is our common history."
George met Vicki Wetzel in college and they married soon after graduation. "Vicki and I are in our 36th year of marriage. We have two children. Erin is married and lives in Nashville, Tennessee with her husband Craig. She works in the social services industry. Erin is expecting our first grandchild in early August. Our son Bryan lives in Columbus, Ohio and works as a financial business specialist for Nationwide Insurance."
After graduating from college, George and Vicki decided to settle in Greensboro, North Carolina, "because we heard the church there was looking for AC grads and we wanted to serve in whatever way we could. I was working for Fairchild Industries as the contracts and negotiations manager when Dan Rogers ordained me as an elder. About two years later Dan asked me one day after services how much money I made. I told him and he asked, 'Would you work for less money?' I said, 'There is only one thing I'd do for less money.' Dan said, 'I've recommended you to do it.' The funny thing is, neither of us said what that thing was, but Joe Tkach, Sr. called me the next week and hired me to full-time ministry. We have served in Greensboro and Winston-Salem, North Carolina; Augusta and Dublin, Georgia; Birmingham and Jasper, Alabama; Buffalo and Olean, New York; and Cincinnati, Ohio."
Today, in addition to serving as a GCI district pastor and church pastor, George serves on the board of The Office of Reconciliation and Mediation (ORM) and as Chairman of the Board for Equipping Ministries International (EMI), a para-church ministry in Cincinnati.
While George has many memorable moments as a pastor, he said an unusual one was having a federal lawsuit filed against him for violating someone's civil rights when pastoring in Birmingham. "Long story with a good ending," he says. Though preaching is George's favorite part of being a pastor, his spiritual passion is life transformation. "If the gospel is not holistic healing the mind, body and soul, to me it is not the gospel."
George has other passions as well. "I love working with power tools. My garage is pretty much a cabinet shop. I remodeled our kitchen a couple of years ago and made the cabinets. I've made a number of cabinets and bookcases for our home and I am presently finishing up a welcome center for our new worship center."
An adventurous spirit is another part of George. "A few years ago I fulfilled a desire I've had since a teen. I went skydiving, jumping out of a perfectly good airplane at 12,000 feet. I highly recommend it!"
When asked about a mentor, George said, "For the last two years I've been a part of a triad with non-GCI ministry leaders in Cincinnati. It is a peer group that we refer to as a "dream group." We share our dreams, hearts, struggles and successes. It has had the greatest spiritual impact on me, more than anything I've ever done."
When does George feel closest to God? "Other than being at the seashore, I feel closest to God when watching Nova or something on the Discovery channel about creation or the origin of the universe. The mystery and expanse of the universe fills me with awe for a God who is both the Creator and a loving Father. It reminds me that I have no comprehension of the future God has in store for his children.