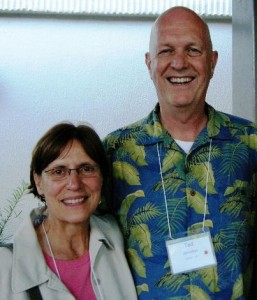 Ted Johnston, a member of the GCI's US Church Administration and Development (CAD) team, grew up in West Lafayette, Indiana. "I attended the Methodist Church during my childhood, but in my teen years drifted away—spending most of my time with school and playing in a rock band (I had hair then!)." In 1968, amidst the turmoil of Vietnam war protests, race riots and assassinations of national leaders, Ted drifted from church. "At the same time, my father had a spiritual awakening through reading WCG literature. Following meeting with a WCG pastor, he urged me to apply to Ambassador College. Though I was not particularly interested, I did so. Following a series of rather miraculous events, I was accepted quite early in the year. I agreed to attend."
A short time later, Ted attended a WCG church service for the first time (in Indianapolis). Then in late August 1969, Ted entered Ambassador College in Pasadena, California. His first date on campus was with Donna Graves from Pennsylvania. Ted and Donna married five years later.
In 1971, after two years at Ambassador, Ted transferred to Cal Poly in Pomona, California, at the request of Herbert Armstrong, who asked Ted to obtain a degree in landscape architecture so that he could bring that expertise to Ambassador's Architecture and Engineering Department. Before he finished at Cal Poly, the entire department was laid off. Ted then went to work for EDAW, the landscape architects and planners who had provided services to Ambassador since it opened in 1948. Now employed by others, Ted continued to serve the church and college.
After graduating from Cal Poly, Ted and Donna married and lived for a short time in Southern California, where Ted began serving in youth ministry in the Santa Ana church. "Shortly thereafter, I was transferred by EDAW to Colorado. That is where our children Traci and Joe were born (actually Joe was born at our fall festival in Missouri, but that's another story!)." Ted worked for EDAW in its Fort Collins, Colorado, office for several years as a project manager, then principal/vice president. "During those years, my family attended the Fort Collins church, where I served in preaching, music (leading the choir) and youth ministry. In 1987 after 15 years in business, I was re-hired by WCG—now to serve in pastoral ministry. My first assignment was in the Kansas City South and Topeka, Kansas congregations as assistant pastor. Then in 1990, we transferred to Colorado where I served as senior pastor of the Grand Junction and Craig churches." During the years in Western Colorado, Ted also served as district youth ministry coordinator and coordinator of our Vail fall festival site. He also completed a master's degree in psychology, with an emphasis in family ministry and counseling, at Regis University in Denver.
In 1997, the family was transferred to Ohio, where Ted served for three years as senior pastor of the Akron and Canton churches. Then in 1999, he began working as district superintendent for the Northeast U.S. He also started work on a master of arts in Christian studies degree from Trinity Evangelical Divinity School, which he completed in 2007.
In 2000, in addition to his work as district superintendent, Ted began serving with Jeb Egbert as co-director of WCG-USA youth ministry. "When that ministry broadened in 2005, it was renamed Generations Ministries (GenMin). I had the opportunity to direct GenMin from 2006 through 2010. In 2010, I handed the baton of leadership to Greg Williams, who later handed it to Anthony Mullins." Ted now serves on the CAD team as a regional pastor, ministry developer and communications coordinator. In the latter role he is webmaster of CAD websites, produces church development videos and produces several online publications: Equipper, GCI Weekly Update, The Surprising God and Sermon Series. Ted also serves on the faculty of Grace Communion Seminary, teaching Trinitarian Youth Ministry and Christian Counseling.
In 2012, Ted and Donna moved from Ohio to the gulf coast of Alabama to live near their daughter Traci, son-in-law Troy Calvert and two grandchildren Lauren (7) and Jack (4). Ted and Donna's son Joe and Joe's wife Carey live in San Francisco—a third grandchild is on the way!
Ted said that in all of his WCG/GCI roles over the years, "What has brought me the greatest joy is helping people, young and old, come to know the God who loves them, hear God's call on their lives and then experience the joy of walking faithfully in that calling. It continues to be a great pleasure to equip people to share in ministry with Jesus. In doing so, I feel God's presence and experience his pleasure. It has been a source of great joy and peace to share this calling with my wife Donna. She is amazingly loving, loyal and accommodating. We will celebrate 40 years of marriage this June."