This update is from Carl Fredrik Aas, GCI's regional pastor for Scandinavia.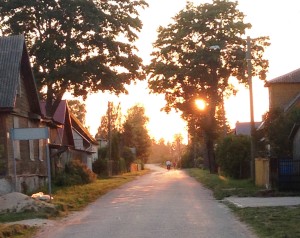 I returned recently from participating in the summer school that we as a church run in the town of Kallaste, Estonia (pictured at right). It was a success in every way. We had about 40 students (some of them are pictured below), which is not bad considering the regular school in Kallaste has 70 students.
Our teachers and other staff members came from Norway, the USA, Sweden, England and Estonia. They did a fine job as a team. The mayor of Kallaste visited one day to thank us for holding the summer school in his community.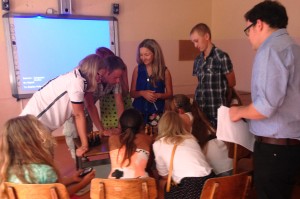 School activities included helping 8 to 12 year olds practice English. The 13 to 15 year olds were taught about friendship, courage, success, integrity and identity. Some of the 13 to 18 year olds were taught to play piano. A former student taught the 13 to 15 year olds to play chess (see picture at right). Other students played American football and volleyball, studied English, learned to give speeches, learned to be interviewed for a job, and learned to prepare meals.
I taught a "Principles of Living" class for the 16 to 18 year olds. We discussed success, budgeting, marriage and sexual relations. I also taught an adult English class, which was a lot of fun.
On Friday evening we held an informal time of socializing together with good food, beverages and fun. The students enjoyed trying to teach me Russian! We all had a good laugh!
The last day of school we held a graduation ceremony in which the local English teacher and I gave short speeches. On the diplomas handed out was this quote: "A friend in need is a friend indeed. The friends you choose will help you win or lose." I expounded on these points.
The highlight of the week was the baptism of Karyn Sanders. As she was being baptized in a local lake, a thunderstorm rumbled in the distance. It reminded us of God's presence at Mt. Sinai.