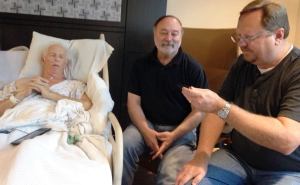 Several cancerous tumors appeared recently in John's body. The initial diagnosis was that the original cancer had spread through the lymph system and was untreatable. The doctors said John likely had less than a month to live. It was a very distressing situation.
However, through events clearly directed by God ("divine appointments" is what his family called them), John was re-evaluated and early this week given wonderful good news—for some "unexplained reason" (from the doctors' perspective) the original diagnosis was wrong—the tumors are not related to the original cancer. Instead they are what are called "germ cell tumors," a type of cancer that can be readily cured using chemotherapy.
John is being moved to a hospital in Louisville, Kentucky where he will begin chemotherapy later this week. The doctors are optimistic that he'll recover fully, despite his present weakened state. We praise God for this good news and remain cautiously optimistic.
John's family says words cannot convey their appreciation for your prayers, love and support. Please continue to keep John and his family in your prayers as John begins this new round of chemotherapy.
Cards may be sent to:
John & Pat Halford
5836 South State Road 129
Versailles, IN 47042