In 2015, GCI-USA is hosting retreats for lead pastors (and equivalent leaders) and their spouses. Doing so aligns with a primary goal Greg Williams (director of GCI-USA Church Administration and Development) set for the year—to facilitate closer relationships between pastors, and between pastors and denominational leaders, as the new regional structure is implemented.
Four pastors' retreats have been held so far this year. The first was in Southern California (click here for a report) and three were held recently near Salem, Oregon; Shreveport, Louisiana; and Atlanta, Georgia. Each retreat focused on worship (prayer and singing), reflection on scripture, discussion and fellowship at meals along with relaxed conversation and solitude in the beauty of the retreat site.
Salem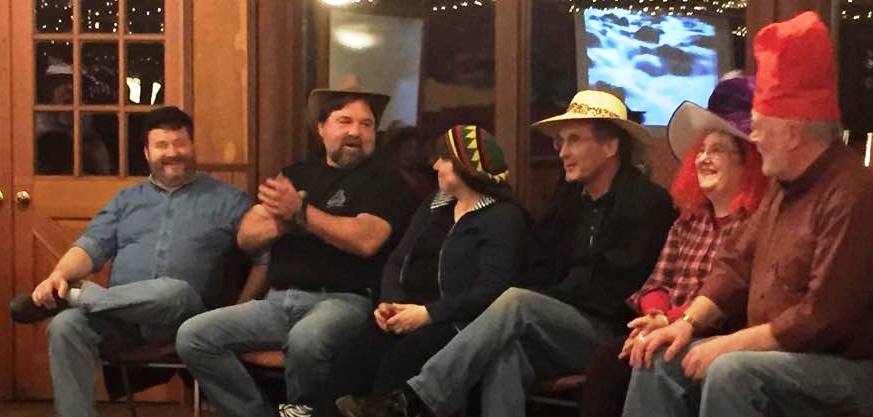 The retreat near Salem, attended by 28 leaders from several Northwest states, was hosted and led by NW associate regional pastor Tim Sitterley. It was held at a Christian retreat center in the Cascade Mountain where GCI has held prayer retreats for 15 years running. One of the center's leaders joined the group for opening worship and noted that he and his family had been praying for GCI long before GCI began meeting there 15 years ago. As a reminder that pastors run the risk of becoming ministerial "hat racks," each participant came to Friday worship wearing a hat (see picture above). During prayer they removed the hats, symbolically setting down their titles and responsibilities for the duration of the retreat. Encouraged by prayer for each participant (see picture below), and guided by the words of Ephesians 4, the group picked up their hats on Sunday and headed back to their pastorates.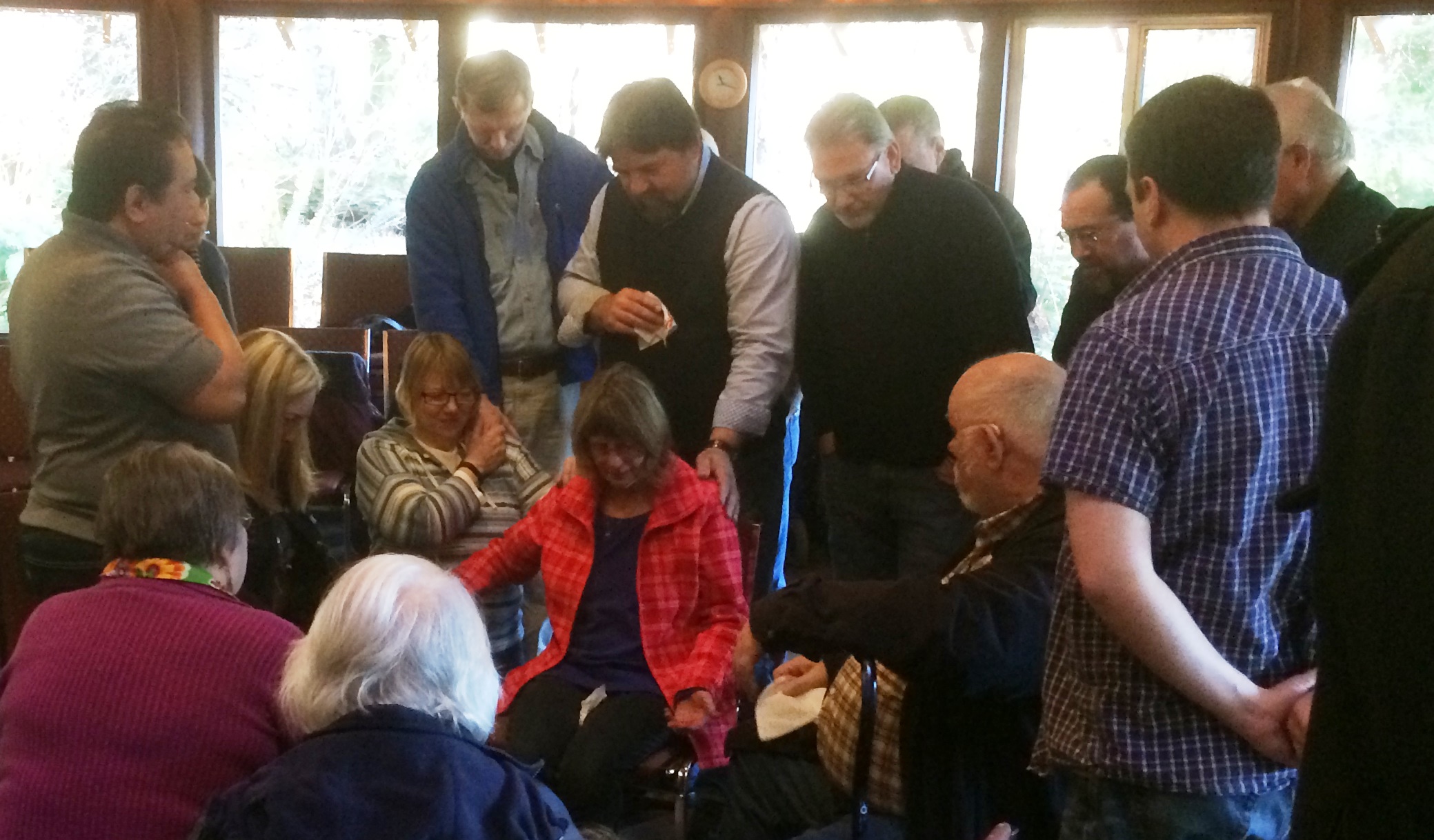 One of the highlights of the retreat was a ceremony in which Greg Williams commissioned Tim Sitterley as associate regional pastor (serving with regional pastor Lorenzo Arroyo)—see picture below.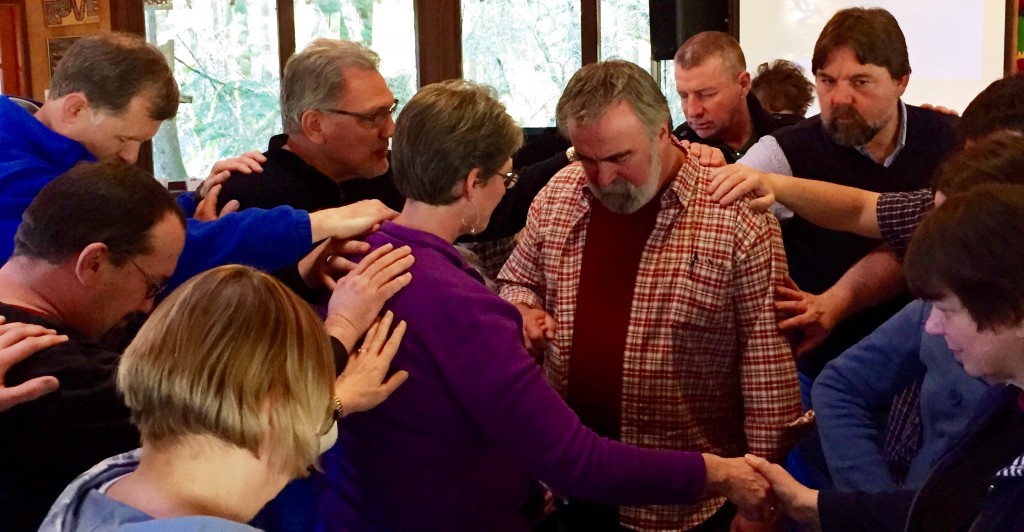 Shreveport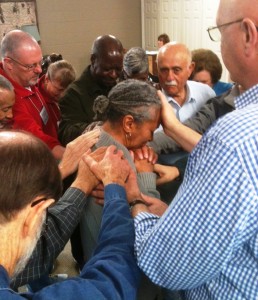 The retreat near Shreveport was held at a Baptist camp and retreat center. Attended by 20 leaders from Mississippi, Arkansas, Louisiana and Texas, the retreat was hosted by pastor Lee Berger and his wife Sue and led by regional pastor Ted Johnston. Time was devoted to getting to know one another since those attending formerly gathered in different districts. A highlight was the ordination of Kathy Houston as an elder (see picture at right). Kathy pastors the GCI church in Pine Bluff, Arkansas. She led the group in an "ice-breaker" discussion that was followed by a time of intimate sharing and prayer in small and large groups in which connections were made, friendships renewed, encouragement given and helpful advice shared (see pictures below). An emphasis that arose in the discussions was summarized by discussion leader, pastor Mike Booze, as "putting the communion back into Grace Communion International."
Atlanta
The retreat near Atlanta was held at a Presbyterian camp and retreat center. Attended by 25 leaders from Georgia, Alabama and Tennessee, the retreat was hosted by pastor Dennis Wheatcroft and his wife Sidni and led by regional pastor Ted Johnston. One of many highlights at the retreat was a discussion about rallying as a family of churches in support of pastor Rannie Childress who recently left his career with the State of Alabama to focus more of his time on developing the newly planted GCI church that he now pastors in Attalla, Alabama.
Comments
Here are representative comments from Salem-area retreat participants:
The prayers of blessing and encouragement we offered for one another and for other local churches capped the retreat wonderfully for me. It was three hours of divine communion with our Lord and with each other. During our time of prayer, the Spirit inspired me with these words, "Lord, open our minds that we can contemplate on your wonders and mysteries. Open our eyes that we can see that the fields are ripe for harvest. Open our mouths that we can praise you and proclaim the gospel. Open our hearts that we can love unconditionally. Open our arms that we can embrace all kinds of people." – Dee Bulante

It was wonderful to become better acquainted with our fellow elders and to make new friendships. I used to feel intimidated around ministers, now they are all my friends and always show care and concern for individual members. Praise God for His grace and Love. – Jim Harries

I am still floating and full of the Spirit and treasuring every minute of it…what a blessing. – Anne Gillam

I enjoyed the fellowship, prayers and the worship more than I can explain. I wish we could have this kind of meeting every week. – Dan Winger