We were saddened to learn of the recent death of Bob Wheeler, Assistant Pastor of GCI's Eugene, Oregon church. The announcement below is from Bob's pastor Tim Sitterley.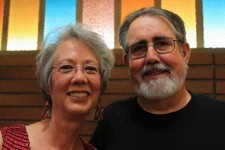 Bob passed away early in the morning of April 12. He had a severe heart attack the evening before. Though the hospital staff did everything they could to open Bob's blocked arteries, the damage was too great, and he died on the operating table. Bob's wife Linda and I were allowed in the room at the end, and I was allowed to pray for and anoint Bob before they turned off the ventilator.
Please pray for Linda, Bob's son Matt, and his daughters Ruth and Rebecca. Also please keep the Eugene and Salem congregations in your prayers, as the loss of Bob will leave a large void. Bob was a good friend and able assistant in ministry.
Card may be sent to:
Linda Wheeler
5466 Sugar Plum Street, SE
Salem, OR 97306