As noted by John McLean, GCI Mission Developer for Australia,
2018 is truly a year of transitions, reminding us that change is an inevitable part of life and a continuing reality of our walk of faith and Christian journey.
After 45 years of committed service to our denomination in both ministry and administration, Rod Matthews has retired from GCI employment. In a GCI-Australia Pastors' Conference last month, attended by GCI President Joseph Tkach and Vice President Greg Williams, Rod and his wife Ruth were honored for their many years of service. According to John,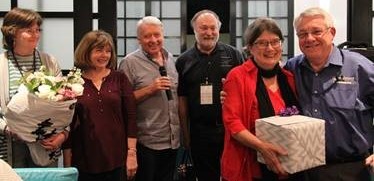 We thanked God for Rod and Ruth, and their many years of service, and prayed for God's continued blessing into the future. Rod has served in different capacities in different countries, including Australia, the USA, the Philippines, New Zealand, India, Malaysia, Papua New Guinea, The Solomon Islands, Singapore, Sri Lanka, and travelled into Nepal and Bangladesh. And probably more besides!

I know you will join us here in Australia in congratulating Rod and Ruth for their considerable labors of love, endurance and hope—their ministry in Jesus Christ through all the ups and downs of our collective journey. Please join us in praying for God's blessing on them as they retire. Rod will continue on the New Zealand Board for some months. And a further denominational farewell-retirement celebration will be held for Rod and Ruth and other retiring Mission Developers at an upcoming conference in Charlotte to be held in October of this year.
Cards may be sent to the Matthews at:
Rod and Ruth Matthews
PO Box 402
Varsity Lakes, QLD 4227
AUSTRALIA