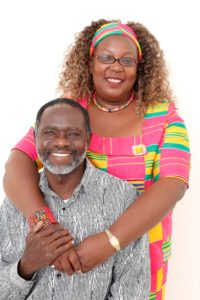 Nsama Mwila (nee) Kaoma came in my life thirty-three years ago. Of these, 28 years have been spent together as husband and wife. We met in Grace Communion International (then WCG) in April 1987. Nsama served the Lord until she died on July 12, 2020.
God gifted, equipped and prepared Nsama for many roles she did in her life. Her warm and friendly smiles made it possible to attract people and make friends. Coupled with pioneering traits and administrative abilities Nsama contributed to my pastoral office as Office Administrator. Although she was not ordained as an elder, Nsama functioned as a minister in wonderful ways. The impact of these endowments resulted in visionary, servant, gracious and loving leadership.
Nsama's giftedness and passion in ministry moved her to serve in several areas: as a Children's Ministry Teacher, Youth Camp Ministry Coordinator, Camp Office Administrator, Women's Ministry Coordinator, Church Board Member (GCI-Zambia), Pastors' Wives Coordinator, Maid Servants Coordinator, Couples Fellowship Facilitator, Marriage Counselor, Region Office Administrator (Malawi, Zambia, and Zimbabwe), GCI-Zambia Office Administrator, Africa Missions Office Administrator, Ambassador College of Christian Ministry (ACCM) Facilitator and Teacher, and Africa Superintendent Office Administrator. She ably filled the role of a great assistant.
In the communities where she lived, she served as a founding member of Mothers with Infants Support Talks (MIST), Village Banking Secretary, Silverest Community Development Team Secretary, Young Women Empowerment Group, and Women's Financial, Self-Development, and Empowerment Teams. Nsama passionately believed in making a difference in people's lives and that she could work within her identified circles of influence. She invested in people's lives through education by paying school fees and generous donations to needy and vulnerable people.
To empower people with skills, Nsama established a school to teach various life skills to help graduates to stand on their own. She would say, "No one can take away your skill. You are the only person who can waste your skill."
All in all, Nsama lived a fun-filled, responsible and engaging life to the glory of God. A few days before she passed on, she and I talked to our children about death. Nsama spoke to each child and blessed them. As a family, we prayed together and I anointed her before we slept.
My family and I look forward to seeing Nsama in the Kingdom of God.
Kalengule Kaoma, Superintendent, GCI Africa