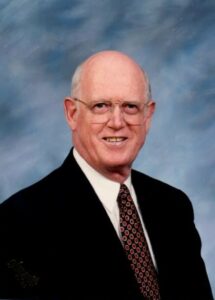 Robert (Bob) Paul Taylor passed away at his home in Franklin, TN on Thursday, January 6, 2022 at the age of 82 from Covid complications. He will be remembered as a loving husband, father, and granddaddy. Bob was born August 19, 1939 in Greeneville, TN to the late Paul Dean Taylor and Willie Irma GeFellers Taylor.
Electronics was Bob's chosen field. He became a computer engineer with GE at the time when working on a computer actually required walking inside of it. After several years in the profession, he took early retirement from Honeywell. His continued interest in computers led him to begin setting up computer systems and software programs and into computer accounting.
As much as he enjoyed computer work, his most beloved job was pastoring which he began in 1995. He served congregations of the Worldwide Church of God (now Grace Communion International) in Nashville, Clarksville, Crossville, and Bowling Green. In 1999, he began serving as a District Superintendent over several states. It was in ministry that he met and came to love so many dear friends. After retiring in 2006 he helped many churches set up and maintain accounting software programs and performed financial reviews for them as well.
In addition to his parents, he was preceded in death by a brother, Clark B. Taylor, and sister-in-law Sylvia Taylor of Greeneville. Bob is survived by his wife of 43 years, Jan Jones Taylor, originally from Lewisburg, TN. Children: Deborah Taylor of Murfreesboro, TN; Mike (Mimi) Taylor of Joelton, TN and Stacie (Tony) Whaley of Murfreesboro, TN. Grandchildren: Jennifer (Matt) Prior; Brian (Shandi) Patterson; Jay (Rachel) Taylor; Brody Taylor; Chaz Taylor; Jack Whaley. Great-grandchildren: Hayden Prior; Taylor Prior; Brycen Patterson; Baylor Patterson; Brooks Patterson. Several nieces, nephews and cousins.
A celebration of life was held February 5, 2022 at Williamson Memorial Funeral Home in Franklin, TN. Regional Director Rick Shallenberger and GCI Board Chair Randy Bloom officiated.
Cards may be sent to:
Jan Taylor
115 Chester Stevens Court
Franklin, TN 37067-5838