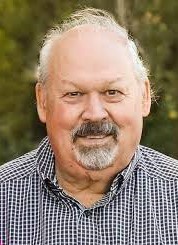 John Anderson, 70, of Maquoketa, Iowa passed away Wednesday, February 16, 2022, after a brief illness. He is survived by his wife, Amy Wilms Anderson, of nearly 24 years. Born Aug. 9, 1951, in Iowa City, IA to Gardner and Lucille (Morrison) Anderson, John graduated from Grinnell High School in 1969 and earned a bachelor's degree in animal science from Iowa State University. John faithfully served as a bi-vocational pastor of the GCI congregation in Davenport, IA until it's closing in 2014.
For many years, John lived his love for flying. He worked at several small airports in Iowa where he piloted corporate planes and gave flying lessons. Later he worked at a hotel in Cedar Rapids where he met his wife, Amy. They married April 25, 1998, in Maquoketa.
John retired in 2017 after receiving a diagnosis of Stage 4 colon cancer. In retirement, he pursued a love for baseball. He and Amy never missed a St. Louis Cardinal game. John loved his pets and would take his pals Brystol and Molly on long walks in the grasslands at the Maquoketa Caves. He loved being outdoors and taking in the wonder of nature.
John was preceded in death by his parents; sister, Mary; brothers Robert and Raymond; and sister-in-law, Paula (Weaver) Anderson. He is survived by his brothers, Charles Anderson of Cedar Rapids, IA, and Richard (Sherri) Anderson of Springfield, MO; sisters, Betty (Robin) Broders of Grinnell, IA, and Carol Brandt of Lynnville, IA; in-laws, Roger and Audrey Wilms of Maquoketa; brother-in-law, Jeff (Amy) Wilms of Maquoketa; sister-in-law, Cheryl Wilms (Ron Versteegh) of Cedar Rapids, IA; 14 nieces and nephews; and 4 great-nieces and -nephews.
A celebration of John's life was held Wednesday, February 23, at the Methodist Church in Maquoketa. Cards may be sent to:
Amy Wilms Anderson
511 N. Walnut Street
Maquoketa, IA 52060-2518