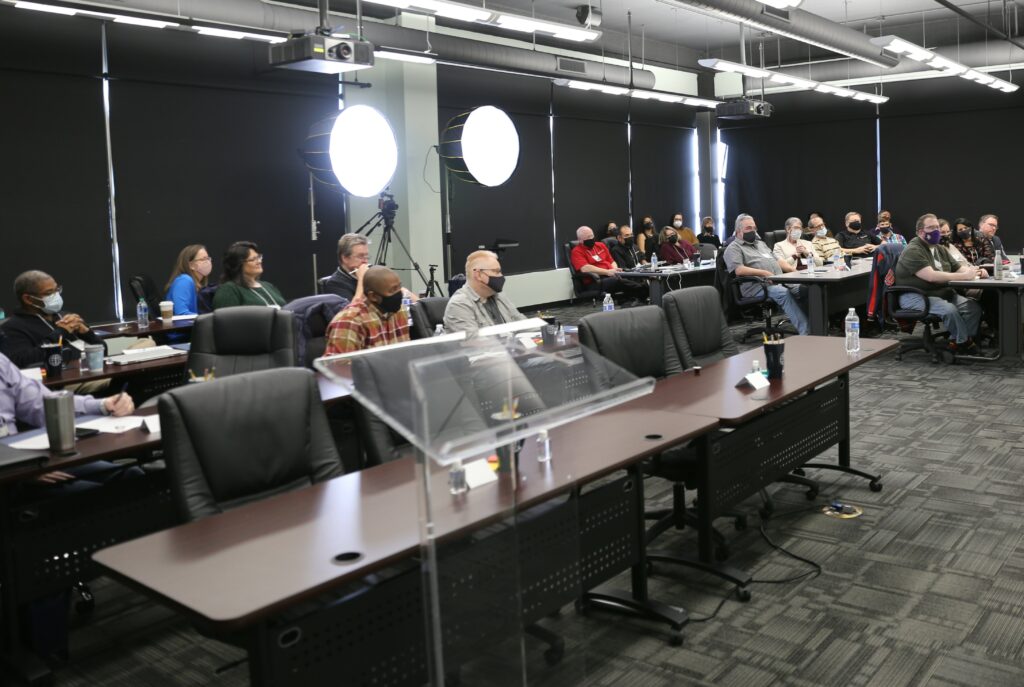 On February 12 and 13, our US Pastor Orientation was held at the Home Office, welcoming 9 pastors entering new roles and new seasons of ministry. More than 20 participated in the 2-day event, including spouses, Regional Directors, the US Superintendent Mike Rasmussen, US Development Coordinator Cara Garrity, Operations Coordinator Pam Morgan, and GCI President Greg Williams.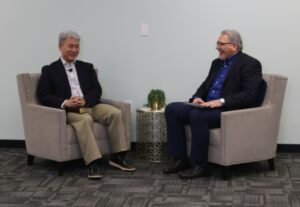 Walter Kim, the first Asian American President of the National Association of Evangelicals (NAE), made a presentation to the group. Hearing from a guest outside of our denomination was an encouraging reminder of our connection to the wider Body of Christ.
Jon Arnold and his wife, Carey, of GCI St. Michael, MN had the following feedback: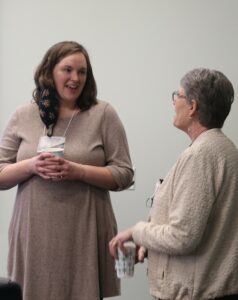 (Carey) Interacting personally with so many of GCI's leaders was inspiring. I could see their genuine love for Christ and desire to love and care for people in the way we all interacted. Even the sessions aimed at the more exacting details of pastoral ministry such as Ministry Action Plans, church polity, and job descriptions made it clear that the leaders intend to support and equip the called (rather than the other way around).
(Jon) I lead the GCI congregation that I was born into and have attended my whole life. When I was a child, we were a congregation of over 300 members with ample resources but a very legalistic doctrine. Now we feel like a megachurch if we have 30 members attend in person and we have very limited resources but we know we live and breathe, our very being exists (always has and always will) within the loving relationship of the Trinity revealed to us by Jesus. Often it can feel like we're a lonely outpost out in the middle of a desolate prairie, alone and cut off from other GCI congregations. What meant the most to me was being able to meet in person names that I had only seen attached to an email, people I had only seen in videos or had not seen in 20 years. To know that there are really living, breathing people who hold true and believe what we believe and to know that even though we might be a lone outpost we're not alone.
Associate pastor, Marlene Reed, whose husband is the lead pastor of the GCI Woodbury, PA church, told us her takeaway.
Reading John 16:8-11 and being reminded about the Holy Spirit's role in our lives as a Comforter, my mind instantly flashed to our pastor orientation. My takeaway from that orientation is that the Home Office and those in GCI's leadership roles are there for my support. Imagine the relief as I had anticipated more of a finger-wagging, more "you're not doing this right." No! The Home Office and those in leadership are a comfort to me! They give me direction, encouragement, education, and support when I need it. They, just like Holy Spirit, are for me and for our congregation's success.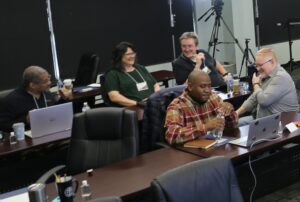 It was so good to see that there is not just support, there are layers of support. And these individuals are intensely knowledgeable, have worked with a great vision to provide materials and templates for our use. And they did it while connecting us all together and making us new pastors feel like we're a valuable part of the team rather than just a bottom rung servant. My husband, Brad, and I were able to come back from the orientation and convey to our congregants that they are part of a larger whole. We're not an isolated standalone, small town church. No. We have an entire network out there. We are connected to something bigger than ourselves.
US Superintendent, Mike Rasmussen shared his thoughts, "The Pastor Orientation provided an intentional time to come together for training and support. I feel so honored and blessed to work with such a great team of people who have servant hearts and are ministry minded! This includes all those who work in our Home Office in Charlotte and the Regional Directors who serve in the trenches across the nation. We are all very excited that these pastors and spouses are a part of GCI's ministry family!"
GCI President, Greg Williams, reflected on the occasion, "I am greatly encouraged by the men and women who have been called into pastoral leadership with GCI. It was extremely helpful to have candid conversations about the challenges and opportunities they will face, and how their focused leadership will make a difference for their congregation, their neighborhood, and the Kingdom of God. Join me in praying for their new roles and the Lord's guidance and blessing in the coming weeks, months, and years ahead."