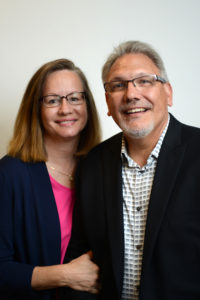 Dear GCI Family and Friends,
The New Testament uses a variety of terms to express our transformed life in Jesus. Jesus talks to Nicodemus about being "born again" or "born from above." Paul tells the Colossian church that it is "Christ in you, the hope of glory" (Colossians 1:27 ESV). Paul describes this life in Jesus in several ways. In 2 Corinthians 5:17 (ESV) he declares, "If anyone is in Christ, he is a new creation." Being "joined to the Lord" is another phrase that the apostle Paul uses.
Being in Christ gives us a new life and a new identity; we leave behind former ways of behaving and self-identifying. We are now becoming the people we were initially created to be—people in Christ, bearing the image of God, no longer bearing a false or broken image.
The apostle Paul provides a sample list of these types of former behaviors. Not so much as a "checklist," but as a reminder of the ungodly, unrighteous activity we leave behind. After all, grace teaches us to say "no" to ungodliness (Titus 2:12).
In Paul's letter to Corinth, he said:
Do you not know that the unrighteous will not inherit the kingdom of God? Do not be deceived: neither the sexually immoral, nor idolaters, nor adulterers, nor men who practice homosexuality, nor thieves, nor the greedy, nor drunkards, nor revilers, nor swindlers will inherit the kingdom of God. (1 Corinthians 6:9-10 ESV)
And the key to Paul's point is found in the next verse:
And such were some of you. But you were washed, you were sanctified, you were justified in the name of the Lord Jesus Christ and by the Spirit of our God. (1 Corinthians 6:11 ESV)
Read More