Dear Brothers and Sisters in Christ,
From Curtis May:
Jannice and I wanted to share with you, our friends, our most wonderful blessing. We have heard people brag about their beautiful grand children. But now we have seen the most beautiful one!

Attached is a picture of Jaden Elizabeth May. She was born on Tuesday, September 8 and was 6 lbs, 12 ounces and 19 inches long.

I'm sure I heard her say, "Grandpa, introduce me to your friends."
---
Dr. John Clarke, a medical doctor in our New York Queens congregation, is known nationwide as the doctor who raps. Dr. Clarke has produced several rap CDs designed to teach teens and preteens about health and medical conditions.
He is now among the finalists in a nationwide contest sponsored by the federal government to generate public service TV ads geared to limit the spread of swine flu. Dr. Clarke's video title is "H1N1 Rap by Dr. Clarke."
The government's "panel of experts" has chosen the finalists and is asking the public to vote on their favorite before September 16 at http://www.youtube.com/USGOVHHS. Anyone can vote once a day, every day until September 16.
---
European Twist on Spokesman Club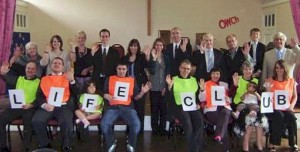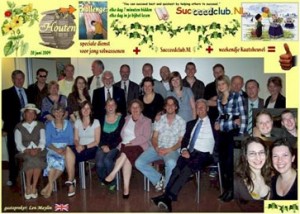 Life Club, now in its sixth year, is a Christian public speaking club that provides an opportunity for members to develop skills in speech and communication.
The club emphasizes Christian service, networking, spiritual growth, personal and professional development, character and confidence building, friendship, fellowship, life skills development, integrity and enjoyment. It is an ideal way to introduce friends to a Christian environment.
So far, there are Life Clubs in the UK, France, the Netherlands and Nigeria.
---
Prayer Requests and Updates
From Randal Dick:
Norma Dick, mother of Bob, Randal and Ron, was taken to the hospital last week for what turned out to be perforated ulcers. During surgery, the doctors discovered that Norma has a quite rare, very aggressive and advanced form of cancer that is both inoperable and non-treatable. Mom is now in hospice, is alert and doing as well as can be expected. Thank you for your prayers for her.

Cards may be sent to:
P.O. Box 484
Hawkins, TX 75765
Remember that prayer is the battleground where we fight the good fight of faith. Let's encourage everyone to join together in prayer, for we belong to Christ, and by the Spirit it is in Christ that we pray. Prayer and other spiritual activities help keep our hearts in tune with God and remind us of who we are in Christ. He is our all in all, and in him we are eternally beloved of the Father and blessed to share his good news with others.
Love from my family to yours,
Joseph Tkach
---