Dear Brothers and Sisters in Christ,
Tammy and I enjoyed meeting with the combined Cincinnati congregations last weekend as both pastors, Rick Shallenberger and George Hart, were celebrating their 25th anniversaries in pastoral ministry. We were delighted to present them with plaques and watches, as well as take part in the combined church service. While there, we were able to visit with John Halford, editor of Christian Odyssey, and his wife, Pat, at their home in southern Indiana. As you can see from the picture, John tried to get me to mow his large 35-acre lawn.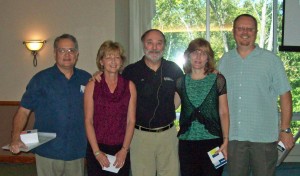 .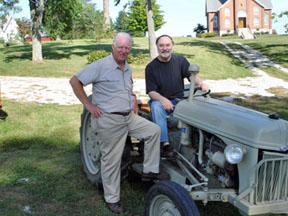 ---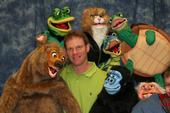 The Seattle and Bellevue, Washington, congregations celebrated their 50th church anniversary the previous weekend. One of the highlights of the celebration was the performance of Christian ventriloquist Steve Cadwalader. I must comment that he is one of the best that I have ever seen. He is a youth pastor who uses ventriloquism in his ministry.
---
U.S. Spanish language mission developer Lorenzo Arroyo reported that Pastor Herb Ticas's congregation in Hawthorne, California, held its first women's retreat. The theme was "In God's Arms," and included such topics as love, forgiveness, repentance, and making Jesus the center of our lives. Sixty-six women attended the event from around Southern California. Herb said that everyone expressed deep gratitude for the unforgettable weekend.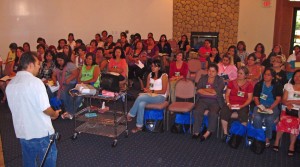 .
---
Prayer Requests and Updates
Gary Moore let us know of the death of Pastor Dennis Lawrence's father earlier this week. Dennis conducted the funeral service on Wednesday. Please keep Dennis and his family in your prayers.
Cards may be sent to:
Dennise & Lynn Lawrence
211 De L'ile Blvd
Pincourt PQ J7V 3R6
CANADA
Prayer is the battleground where we fight the good fight of faith. Let's encourage everyone to join together in prayer, for we belong to Christ, and by the Spirit it is in Christ that we pray. Prayer and other spiritual activities help keep our hearts in tune with God and remind us of who we are in Christ. He is our all in all, and in him we are eternally beloved of the Father and blessed to share his good news with others.
Love from my family to yours,
Joseph Tkach
---