Dear Brothers and Sisters in Christ,
We apologize for the delay in this week's update. Yesterday while we were testing it, we found that it was being flagged as spam by Sane Security's spam filters, which are widely used on the internet. To prevent it from being flagged as spam for many of you, we reported the problem to Sane Security and they have now fixed the filters. Unfortunately, all that took some time.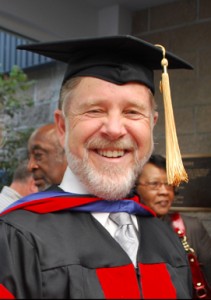 ---
Congratulations to Randy Bloom, who has now graduated from Trinity College with his Doctor of Ministry degree!
---
Pastors will be soon be receiving in the mail a new DVD video update featuring our Mission Directors from around the world. Please play the video for your congregations as schedules permit.
---
New Video Recordings Online
Church Multiplication Ministries (CMM) has posted several video recordings related to church multiplication on the CMM website. These recordings include:
"Church Multiplication in GCI" (Randy Bloom, GCI Church Multiplication Ministries director, describes our GCI-USA vision for church multiplication and GCI-USA resources for starting new churches).
"You Might be a Church Planter If …" (Interview with Greg Pugh, district director of church multiplication for the Evangelical Free Church of America and guest speaker at the Denver Regional Conference).
"The Trinitarian Basis for Church Planting" (Presentation at the Dallas Regional Conference by Randy Bloom, Church Multiplication Ministries director).
"The Importance of Church Planting for GCI" (Dallas Regional Conference guest speaker Rod Koop, National Director of Church Multiplication of the International Church of the Foursquare Gospel).
"How Churches Can Participate in Church Multiplication" (Dallas conference presentation by Randy Bloom). "Church Planting Questions and Answers" (Randy Bloom and Rod Koop answer questions at the Dallas Regional Conference).
These video recordings may be viewed by visiting the CMM website at cmm.wcg.org.
---
GCI-USA
Church Administration and Development is pleased to announce the launch of Trinitarian Worship—a blog for discussing how Trinitarian Theology undergirds and shapes the worship ministries of the church. This blog will be of particular interest to worship directors and leaders, pastors, musicians, technicians—all who are involved in planning and facilitating the worship of the church. We invite you to join the discussion at
http://trinitarianworship.blogspot.com/
.
---
Lee Berger shared this fundraising opportunity:
Do you have any outdated or unused electronic devices lying around the house? If so, you can turn the unused items into monetary donations (at no cost to you) for the Jon Whitney Foundation, a ministry partnering with our denomination to provide scholarship funds for needy kids to attend our Christian camps in the U.S. and in other countries.

We're looking for cell phones, MP3 players, digital cameras, laptops, PDAs, GPS devices, external hard drives, video games, gaming consoles, camcorders, satellite radios, movies, Blu-Ray players, LCD monitors, and calculators.

How does it work? Have someone collect the items. Go to the website www.jonwhitneyfoundation.gazelle.com and follow the easy 3-step instructions.

This opportunity is available only until the end of the year, so this is a good time to clean out your cabinets, closets and shelves of unused electronic devices and help kids attend a life-changing Christian camp.

There is no cost. Even the shipping is free.
---
Prayer Requests and Updates
Please continue to remember Peter Whitting, who remains in the hospital with pneumonia and a collapsed lung. Cards can be sent to:
Peter and Charlotte Whitting
7413 Ricksway Rd
Pikesville, MD 21208-5720
---
We should have information on members affected by the flooding in the southeast U.S. in next week's update.
---
Philippines National Director Eugene Guzon sent this update about the floods around Manila:
This was one of the most serious floods we have had, with about 400 mm (15.7 inches) of water dumped in about 12 hours. That is more than the average rainfall for the month during this rainy season. The scope of the damage was wide, but most of the casualties came from Manila and Rizal, the adjacent province. Many of the members in Metro Manila were hit with flooding, ranging from moderate to heavy damage of furniture, equipment, and church facilities.

Some members still do not have access to power and water. We have tried to provide some immediate response, especially food and drinking water and warm clothing. The office was used for a while as a relocation center for those near the office, but they have now been able to go home.

I am surveying damage and needs and I can give you more specifics soon. We have no classes in Metro Manila for a few days as people need time to clean up, salvage what was flooded and to bury their dead.
Reminder: Don't forget you can donate to the Disaster Relief Fund which was established to help our members and perhaps others when faced with such disasters. If you or your congregation would like to help other members and local congregations affected by disasters, please direct your donation to the Disaster Relief Fund. It exists to help with costs of emergency member needs, including the costs of such items as food, water, clothing, and temporary housing, as well as temporary local pastoral salary expenses and other emergency local church expenses. The Fund is coordinated by pastors in the affected areas.
Checks should be made out to Grace Communion International, marked Disaster Relief Fund, and mailed to:
Disaster Relief Fund
Grace Communion International
PO Box 5005
Glendora, CA 91740
---
Lee Berger sent this update about the progress of his cousin, Carlton Marshall:
Many of you are aware that my cousin, Carlton Marshall, a Dallas police officer, was shot two years ago in a SWAT drug raid and ended up deaf and paralyzed. Thanks to God's grace and the efforts of many in the medical field, Carlton is now able to hear via cochlear implants and is able to walk to a degree (although a wheelchair is still his most efficient mode of transport). He continues to go to physical therapy three times a week, and we pray that he will gain even more use of his body.

Carlton has gone back to work part-time as a consultant/trainer with the police department. He is extremely thrilled to be able to contribute to the police force again. His wife, Susan, still bears much of the brunt of the whole situation, so please continue to remember Carlton, Susan and the children, Joseph and Jessica in prayer. God has worked many miracles in their family through this trial, and we give him thanks.

The latest adventure is that TV's ABC Extreme Home Makeover built a new house for the Marshall family a couple months ago. We're excited to announce that the show is scheduled for airing Sunday, October 18.

It airs at 7 pm in many markets, but consult your TV schedule for the correct time and channel in your market. We're not sure if the program will be one or two hours in length. These Home Makeover shows are always inspiring, and this edition will have a special meaning for our family and for many of you who have been following Carlton's progress.

Thank you for your many prayers and love for this family.
Remember that prayer is the battleground where we fight the good fight of faith. Let's encourage everyone to join together in prayer, for we belong to Christ, and by the Spirit it is in Christ that we pray. Prayer and other spiritual activities help keep our hearts in tune with God and remind us of who we are in Christ. He is our all in all, and in him we are eternally beloved of the Father and blessed to share his good news with others.
Love from my family to yours,
Joseph Tkach
---