Dear Brothers and Sisters in Christ,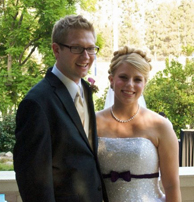 Please join with us in congratulating the associate producer of our videos, Nathan Smith, on his marriage last Saturday to Savannah Nord. The newlyweds will be living in Pasadena.
From Ted Johnston:
GCI-USA Ministry Development is pleased to announce the launch of Trinitarian Worship—an online blog for discussing how Trinitarian theology undergirds and shapes the worship ministries of the church. The blog is moderated by Mike Hale in partnership with Ministry Development. It will be of particular interest to worship directors and leaders, pastors, musicians, technicians, and all those involved in planning and facilitating worship in the church. We invite your participation at http://trinitarianworship.blogspot.com/.
---
Wisconsin Dells
From Pastor Doug Johannsen:
Even though the tough economic times caused a significant drop in attendance, our 2009 Dells Celebration was, in my opinion, the best ever. Our theme of "From Exclusion to Inclusion" was thoroughly covered by sermons and workshops held throughout the four-day event at the Kalahari Resort in the beautiful Wisconsin Dells.

Pastor Israel Hernandez's opening message on "Who is My Neighbor?" focused on the parable of the Good Samaritan. Pastor Hernandez explained that the Good Samaritan is Jesus, and that he brings the hurting to the church (represented by the Innkeeper) where the gifts he's given us are used to heal and restore.

Pastor Willard High followed the next day by discussing how Romans 12 shows us what an "Inclusive Church" looks like. We use these gifts, not to earn anything, but as a loving response towards others with what Jesus has given us.

The idea of contempt, taken from Dallas Willard's explanation of what's fundamentally wrong about calling someone a "fool," was the basis for Pastor Doug Johannsen's message about how prejudices and hatreds that cause us to exclude others are often formed in the home. We cannot change our contemptuous feelings towards others by ourselves; it takes Jesus.

Pastor Sam Butler concluded the weekend event with a message about communion that he wove into our actually receiving communion during this service. Communion plainly proclaims and reminds us of how we are immersed, and soaked completely into the life, suffering, death, resurrection and ascension of Jesus. Communion for this service was organized and hosted by Pastor John Torgerson.

Pastor Tracy Porter and his staff conducted children's church concurrently with the main worship sessions. The children were brought on stage Sunday morning where they sang and signed "Jesus Loves Me, This I Know." Tracy also taught them the Hebrew alphabet song, which they sang to the entire audience. He commented that he was amazed that they learned it in less than two days as it had taken him over two weeks in a college class!

Workshops included "Unconventional Community Involvement" by Pastor High; an exploration of the "Christ Hymn" of Philippians 2 by Pastor Tracy Porter; two sessions with Pastors Butler and Johannsen showing that the life of Jesus includes us; a father/son workshop presented by Pastors Archie and Stephen Hill; and a workshop by Pastor Sam Butler showing how baptism and communion reflect the life of the Trinity and our inclusion in that life.

Ministerial Development Trainer Randy Bloom gave workshops on the Ascension and Church Planting.

Brenda High (Pastor High's wife), a Scholarship Coach for three high schools in Illinois, provided tips and strategies for finding money for college as well as filling out the intimidating FAFSA (Free Application for Federal Student Aid) form.

A senior's breakfast was attended by about 80 seniors. Joyce Wendt, a member of the Wausau, Wisconsin, pastoral team, hosted the event. Joyce and the Olson brothers from Wausau performed live music. Let me say that you haven't lived until you've heard them sing a song about Lutefisk (a Norwegian invention of dried fish). The song was way, way better than the fish. The Wausau congregation may well have the most active nursing home ministry in our denomination.

Jacque Bartell, who is active with the Linus Project, along with numerous donors and workers, produced 27 blankets for Hope House.

Our praise and worship band had a wonderful praise session Saturday evening. Dave and Linda Holmes, who have such a wonderful reputation from our Heartland Camp in Illinois, held an evening where teens and young adults had pizza, played various games and did some craft work.

Next year's event will be held again at the Kalahari from September 30 – October 3.
---
United Kingdom
The UK church is in the early stage of organizing a Bible tour of Israel for October 7-16, 2010. They will need at least 28 attendees to make the trip viable. The package is designed with church members in mind but is open to anyone. It is expected to include such locations such as Jerusalem, Bethlehem, Jericho and Tiberius. The group will have its own guide, and there will be Bible studies related to the places visited. Accommodation will be in basic hotels.
Bed, breakfast, evening meals and flights from Heathrow to Tel Aviv should be approximately £1000 British pounds per person based on double occupancy. For those who would wish to make their own flight arrangements and join the tour, the tour cost would be around £700 pounds per person, based on double occupancy. For more information email James Henderson at james@wcg.org.uk.
Adventure Camp
From Camp Director Kevin Harris:
More than 30 preteen campers from around the country, along with a large group of teen helpers and staff, enjoyed a fabulous weekend of fun August 29-31 at the Well End Activity Centre, Borehamwood, Hertfordshire.

Children took part in a wide range of activities, including archery, biking, field games and candle making. Adults and children commented on the great atmosphere. There was a real sense of community with people of all ages, shapes and sizes working and playing together to create a successful event.
.
.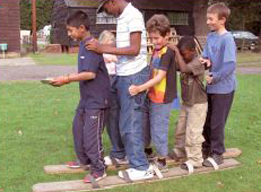 Plans are already in place for Adventure Camp 2010. For more information about Adventure Camp visit www.wcg.org.uk.
Luton Ladies Day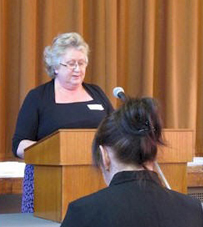 The 6th annual Luton Ladies Day, September 20, began with morning coffee at registration before organizer Daria Fowler welcomed about 35 delegates. Morning and afternoon sessions opened with worship hymns led by Tina Sullivan and accompanied by Shirley MacLean.
Speakers included Mrs. Shirley Jones, who discussed female life stages, Angela Kiernander, who reviewed "Five Languages of Apology," and David Silcox, who discussed principles for a happy married life.
Scammonden, Yorkshire
A Life Activity weekend was held in Scammonden, Yorkshire, September 4-6. Activities besides the regular speech club meeting included sailing, table tennis, wall climbing, gilding, macramé and bread making.
---
International Day of Prayer for the Persecuted Church
This November 8, thousands of Christians worldwide will join in prayer for the persecuted church. For more information, visit www.idop.org.
---
Prayer Requests and Updates
Mike and Victoria Feazell requested prayer for the family of Victoria's brother, Greg Brady, who died unexpectedly last week from heart failure. Greg was 45, and leaves behind his wife, Maria, and three children still at home. Cards can be sent to:
Maria Brady and Family
3121 Softwood Court
Lancaster, CA 93536
---
Last night Pastor Peter Whitting had to be taken to the hospital for a collapsed lung. He has had a previous surgery to correct this. Please remember Peter and Charlotte in your prayers for healing and a quick recovery. Cards may be sent to:
Peter & Charlotte Whitting
7413 Ricksway Rd
Pikesville, MD 21208-5720
Remember that prayer is the battleground where we fight the good fight of faith. Let's encourage everyone to join together in prayer, for we belong to Christ, and by the Spirit it is in Christ that we pray. Prayer and other spiritual activities help keep our hearts in tune with God and remind us of who we are in Christ. He is our all in all, and in him we are eternally beloved of the Father and blessed to share his good news with others.
Love from my family to yours,
Joseph Tkach
---