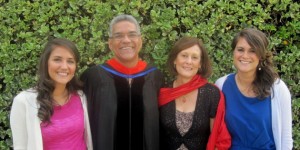 Dear Brothers and Sisters in Christ,
Please join me in extending hearty congratulations to a friend and brother in Christ, Charles Fleming, who graduated from Fuller Theological Seminary last week with his Doctor of Missiology degree. Charles was also selected by the faculty for one of three leadership awards from among the 74 doctoral graduates. Moreover, congratulations go to Charles and Carmen's two daughters, Michelle and Anne Marie. Michelle just graduated with a Masters degree in Mental Health Counseling, while Annie graduated with a Masters in Business Administration.
---
We also salute Robert Meade and Bret Miller on 25 years of employment with the church. Robert is manager of our accounting and Bret is our IT manager.
---
Ohio
Kayla Shallenberger, daughter of Rick and Cheryl Shallenberger, graduated this past Saturday from Ohio University with a degree in Elementary Education. Kayla graduated Summa Cum Laude, or in the top five percent of her class. She is serving as a care-giver for her grandmother this summer as she prepares to return to Malawi in September to teach at our school in Blantyre.
---
Abbotsford, Canada
Sally Miller, daughter of proud parents Jim and Karen Miller of Harvest Christian Fellowship in Abbotsford, was the valedictorian of Langley Secondary School this year. Jim is an elder in the congregation, and daughter Sally regularly takes part in worship leading.
---
Generations Ministries
Our GenMin summer camp and missions season is in full swing. Please join us in praying for success and safety. You can find a list of all the camps and missions at http://genmin.gci.org/campministries.htm.
Professional musician and Dallas GCI member Doc Gibbs wrote a song to accompany the "Living Loved" 2011 camp theme and curriculum. You can listen to it at http://genmin.gci.org/Web Documents/Living Loved theme song.mp4 and download the lyrics at http://genmin.gci.org/Web Documents/Living Loved theme song lyrics.docx
Thanks Doc!
---
Dallas, Texas: Heart O' Texas Camp
Twenty campers and 15 staff came together for a weekend of training, sharing and fellowship, and "Acts of Random Kindness" in the local community was again the exciting highlight of the camp. Anthony Mullins, GenMin camps and missions leader, gave the chapel messages and participated with the campers in their activities. Dallas North youth ministers Scott and Shawna Herridge led camp activities and kept the campers engaged. Camp concluded with a worship service in the Dallas North church, where each group of campers shared their camp experiences with the congregation.
---
Office of Reconciliation and Spiritual Mediation (ORSM)
On Tuesday, Wednesday and Thursday last week Curtis May was guest speaker at an inter-church, multi-ethnic conference in Dallas, Texas, on the topic of Church Growth in a Changing World. The conference was hosted by the Baptist Church Missions Association.
On Tuesday evening Curtis spoke on Jesus' example of crossing barriers in John 4, then held a Q&A session. On Wednesday he spoke from Ephesians 2, emphasizing the need for prayer, love and willingness to fellowship with people of all walks of life. A round-table discussion and Q&A followed.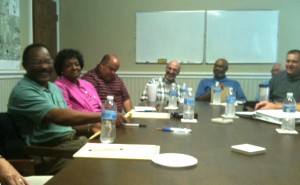 On Thursday Curtis joined Baptist Mission Director Scott Whitson in leading a lively round table discussion in which pastors were asked to share their issues relating to church growth and diversity. The conference ended with a round table discussion at a Spanish church with a group of White, Black and Hispanic pastors.
GCI pastor and ORSM chapter leader Tom Pickett did most of the preparatory work for the conference, assisted by Baptist Pastor Charles Dorsett.
Photo: Curtis and Jannice May (far left) take part in a round table discussion with more than two dozen Dallas area pastors.
---
Canadian Thanksgiving Celebration
Craig and Debbie Minke sent this update regarding the Thanksgiving Celebration Retreat being held in Penticton again this year. Due to the Canadian rotating mail strike, they asked me to include this information in my update, so that anyone interested would be able to receive the information. Guest speakers include retired elder Ronald Kelly, who served our denomination for more than 45 years, and elder Randal Dick, who served as our director of international missions from 1993 to 2007 and is now a senior consultant with Design Group International.
Gary and Wendy Moore will join the group for a few days, with Wendy presenting a GCI Canada missions update. Planned events include a lunch cruise, a winery tour, a Thanksgiving Banquet, and other activities.
More information is available on the Vancouver church website at http://www.gcicanada.ca/features/penticton2011.php
---
Prayer Requests and Updates
Jewel Love, one of our elders in the Beaumont, California, congregation sent this update about his treatment for prostate cancer:
We have completed a week of radiation treatments. So far my treatments have been routine. I have suffered no adverse side effects yet. They have put us up in the Fisher House. The main number is 310-478-3711, and our room extension is 45916. We have a private bedroom and bathroom. All residents share the large living room, kitchen, dining room, family room, and library, and the common areas. Lelia, my wife, who is serving as my caretaker, has worked diligently and enthusiastically to organize our living quarters. Her efforts have produced an extra clean and sanitary place for us to live in for the next few weeks. We have seven weeks more to go, so please continue to remember us in your prayers.
---
Retired church employee Rona Martin died May 13, 2011. Rona worked full time for the church as Herbert W. Armstrong's housekeeper from September 1965 until March 1986, when she retired and moved to Tucson. She was born in October 1914.
Remember that prayer is the battleground where we fight the good fight of faith. Let's encourage everyone to join together in prayer, for we belong to Christ, and by the Spirit it is in Christ that we pray. Prayer and other spiritual activities help keep our hearts in tune with God and remind us of who we are in Christ. He is our all in all, and in him we are eternally beloved of the Father and blessed to share his good news with others.
Love from my family to yours,
Joseph Tkach
---