Dear Brothers and Sisters in Christ,
Hearty congratulations to Eleazar and Benina Benavides, who will be celebrating their 60th wedding anniversary this weekend! Yes, that's sixtieth! Eleazar is an elder in our Albuquerque, New Mexico, congregation.
---
Sleep: food for thought
According to Science Fair, researchers in Wisconsin and Italy have found that the brains of rats kept awake past their bedtimes begin to turn themselves off, neuron by neuron, even though the rat is still awake. This suggests that that the 35 percent of Americans who routinely sleep less than seven hours a night are also having portions of their brains go off-line even though they're still awake. The message is that we need to take sleep seriously (from Science Fair, 4/27/11).
---
Lexington, Kentucky
From John Halford: Sunday, June 19 was a bittersweet day for the Lexington, Kentucky, congregation. Ron Dick, who has been the congregation's pastor for more than 20 years, will be retiring to Florida. Ron's wife, Linda, has been ill for several years, and she finds the warmer climate more favorable.
As his final act of official service to the congregation, Ron ordained Beth Jeffers as an elder. I was asked to represent the denomination in installing the new pastoral team consisting of Beth Jeffers, John Bailey and John Todd.
The Lexington congregation has recently been blessed with a remarkable outreach opportunity. One of the members heard about a pastor of a Hispanic congregation who was looking for a location for his newly planted church to meet. The leaders of the two churches met, and our church agreed to let the new congregation use our building on Sunday afternoons. In return, the members of the new church offered to take care of the landscaping of our property, something that was beginning to be a challenge for our aging members. In addition, the two congregations decided to join together for occasional worship services and to work alongside one another in community outreach.
The pastor and elders of the Hispanic church attended our service last Sunday, and Pastor Emmanuel Romero sang some special music in English and Spanish. Then Ron invited them to join us in ordaining Beth and commissioning the new pastoral team. I found this development inspiring and encouraging, and I have asked Beth Jeffers to tell the story more fully for a future edition of Christian Odyssey.
---
UK Women's Conference
Friday, June 3, some 60 women gathered in glorious sunshine at High Leigh Christian Conference Centre for a weekend of relaxation, inspiration, conversation and fun. After a warm welcome and dinner, Nancy Silcox led worship and Shirley Henderson, who coordinated the conference, gave a message focused on the theme of the weekend, "Love Never Fails…What can I do?"
Saturday dawned another beautiful day. Hard working ladies behind the scenes, led by Joy Barlow, arose early and posted a letter beneath our doors to set the tone for the day ahead. After welcoming the day visitors, Julie Robus led worship and Helen Francis did a reading. Our keynote speaker for the day, Tammy Tkach (editor of Connections, a publication for women in ministry and wife of the GCI president, Joseph Tkach) spoke about how knowing God as triune deepens our personal relationship with God.
After the all-important tea and fellowship break, Tina Sullivan invited everyone to share their outreach activities. Barbara Wilkinson led worship in the afternoon, and then the group split up for the four workshops being offered. Evelyn O'Callaghan Burkhard led "Helping People Deal with Loss"; Irene Wilson led "Beware! Comfort Zone!"; Tammy Tkach led "Praying Outside the Box"; and Sinead Henderson led "Building Accountability." Saturday concluded with a evening of hilarious games provided by Sinead Henderson and Comet Chukwurah.
Sunday was another glorious day full of chatter and reminiscing as the weekend drew to a close. Julie Dickson led us in uplifting worship as the focus moved deeper into relationship and communion with God. Tammy spoke about the freedom we have to know God's love and give it more fully, and Shirley led us in the final Communion service, reminding us of our place together in the body of Christ. Due to the individual efforts of all, many of whom travelled long distances, gave up time, invested ability and listened and shared, the weekend was a resounding success.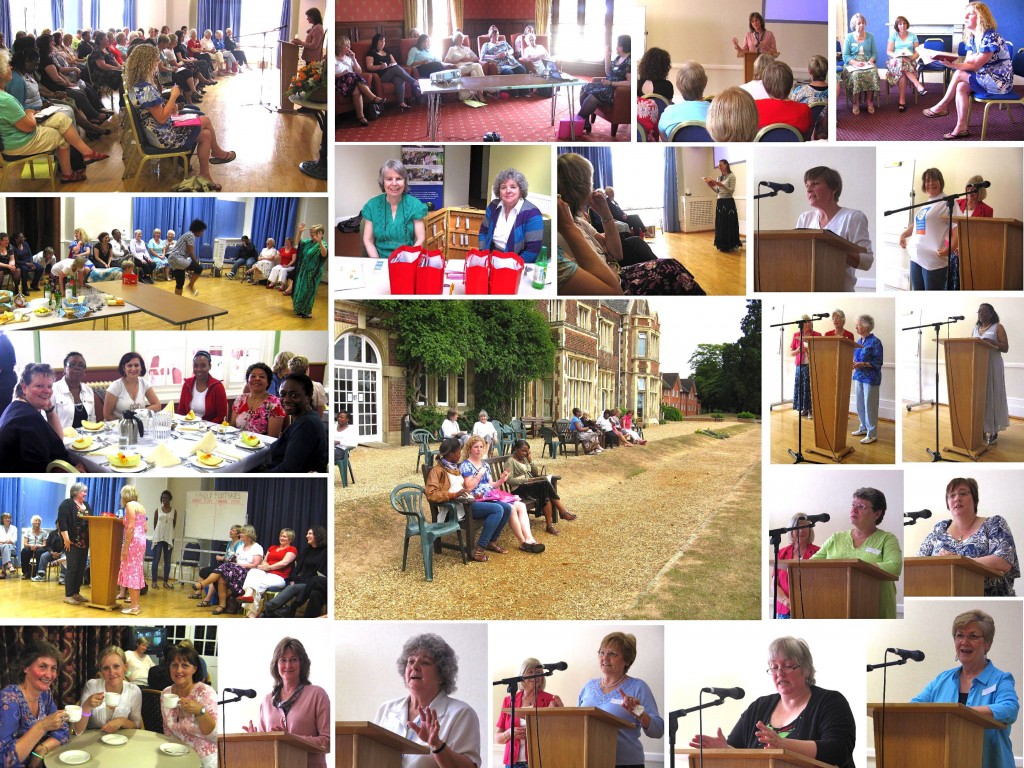 ---
Visit to biblical and classical Turkey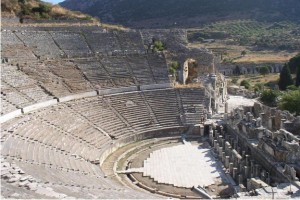 The UK church is planning a tour to biblical and classical sites in Western Turkey.The tour would leave on Saturday, June 2, 2012, and return on Sunday, June 10. Flights leave from the UK to arrive late into Izmir (ancient Smyrna) via Istanbul on the Saturday night, June 2. Then we would travel by air-conditioned coach to Ephesus, Miletus, Hierapolis, Laodicea, Sardis, Pergamum, Troy, the Dardenelles, and Istanbul, from where we would return home on June 10.
Among the many highlights would be visiting some of the places where Paul and John were in New Testament times, exploring archaeological sites, and going shopping in the world-famous Grand Bazaar in Istanbul.
The cost is still being finalized, but is likely to be about £1200 per sharing adult. The single supplement is £249. The cost is inclusive of flights from Heathrow or Manchester, half-board accommodation, entrance fees to sites, land transport in air-conditioned coaches, airport transfers while in Turkey, plus the services of an English-speaking guide. Not included are travel insurance, visa costs (£10 cash upon arrival), lunches, tips (voluntary circa £50 per person for trip). Also not included are any increases in flight taxes and fuel surcharges.
To register an interest please email: james.henderson@gracecom.org.uk
Please note that departures from New York and France may also be available.
---
Prayer Requests and Updates
From Dennis Lawrence:
I began my new treatment yesterday and am feeling rather poorly today. I have some abdominal pain but I have medication to control that. My treatment involves cycles of three weeks where I go in at the beginning and have an infusion of retaximub, a chemo drug, and get panobinostat in pill form. This treatment is a hopeful one, but we don't know how long it will take to make the difference we want to see made. After that, I only need to return to hospital weekly for checkups. I feel weak today but tomorrow should be better and I hope to be in church in Montreal this weekend, but I have to go day-by-day right now. Thank you very much for your ongoing prayers, calls, and emails of support and encouragement. It makes a tremendous difference.
Cards may be sent to:
211 De L'ile Blvd
Pincourt, PQ J7V 3R6
CANADA
Remember that prayer is the battleground where we fight the good fight of faith. Let's encourage everyone to join together in prayer, for we belong to Christ, and by the Spirit it is in Christ that we pray. Prayer and other spiritual activities help keep our hearts in tune with God and remind us of who we are in Christ. He is our all in all, and in him we are eternally beloved of the Father and blessed to share his good news with others.
Love from my family to yours,
Joseph Tkach
---