Dear Brothers and Sisters in Christ,
Congratulations to Olivier and Susan Carion's son, Pierre!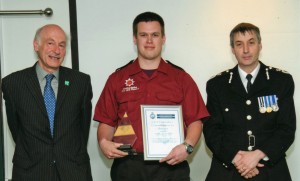 In addition to his full-time work at Rothamsted Research in Harpenden, England, Pierre also serves as a local firefighter. Recently, he and two other firefighters were awarded the Chief Constable's Commendation for Bravery following a life-threatening fire.
The picture shows Pierre with Stuart Nagler, Chair of Hertfordshire Police Authority, on the left and Frank Whiteley, Chief Constable for Hertfordshire, on the right. To view an article featuring the three firefighters and the Mayor of Harpenden from The Herts Advertiser on the June 23 Click Here.
---
Invitation: National Youth Workers Convention
From Anthony Mullins: Youth Specialties hosts a National Youth Workers Convention every year. This year, one of the gatherings will be held in Atlanta. I want to invite you to join me there in November. The details are listed below. This will be a "pay-your-own-way" event, so you'll need sponsorship from your camp or mission, local church or your own bank account for all expenses. We receive a significant discount by registering as a group ($100 per person) so please let me know by July 31 if you can attend.
A new feature this year is the Theology Forum. Presenters include Andrew Root (who has appeared on You're Included), Kara Powell, Kenda Creasy Dean and Dean Blevins. Topics include:
"What does it mean to be a person?"
"The interaction between human and divine action"
"Theological issues impacting Christian Formation of adolescents"
"How do practical theology and culture interact?"
Website: Click Here
Dates: November 18-20, 2011
Location: Atlanta Marriott Marquis – Atlanta, GA
Registration Cost: $198.00 per person (if we have a group of 4 or larger)
Hotel Cost: $119.00 for double occupancy
Promo Video: Click Here
For David Crowder Band fans, they will be leading worship at NYWC, and this will be one of their last appearances together. You can read more about the band here: http://www.davidcrowderband.com/
---
Lexington, Kentucky
From Ted Johnston:
At the Lexington regional conference in June, Philip Nation of LifeWay Resources gave a presentation concerning the Transformational Church assessment and consulting process. This process provides churches with tools and assistance to help churches grow in their ability to participate effectively in what Jesus is doing in the power of the Holy Spirit to fulfill the Father's mission – both locally and globally.
---
Bogota, Colombia
From Andrés Felipe Barrero:
Forty-two young campers visited Los Tunos June 24-27, a two-hour drive from the church. Topics included family, relationships and the grace of God.
---
Crossing Borders mission trip to Mexico
Crossing Borders recently completed its 6th year of ministry short-term trips to Mexico. Nine participants distributed food, toiletries, socks and other necessities to "Meals-On-Wheels for people without addresses." They also cooked and served homeless street people in Nuevo Laredo, visited with native ministry leaders, preached and performed dramas at a local church service, conducted Vacation Bible School at three locations, and toured a private ministry facility to see how the ministry might be involved with them on their next trip.
When they were serving dinner to non-Mexican immigrant deportees, the city mayor heard about what they were doing and met with them to discuss their ministry goals and offered his help to the group for future trips. While Crossing Borders participants always seek to declare God's love through their actions, on this trip they also had opportunity to preach the gospel in a church service. Chaplain Steve Solari and director Lee Berger each gave a short sermon with drama skits.
Crossing Borders' next trip to Mexico will be in December, when they will deliver hundreds of shoebox gifts. If your church would like to provide gifts, or participate in the trip itself, see the Crossing Borders website at www.cbmission.org or call director Lee Berger at 903-746-4463.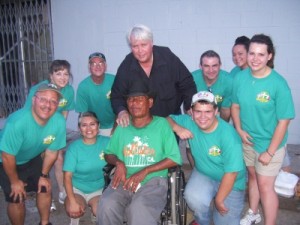 Photos by: Lee Berger (except where noted)
Photo 1: CB team (with local ministry leader, Randy Leyendecker) distribute food and necessary items to Juan, a homeless man.
Photo 2: Serving a meal to, talking with and praying for non-Mexican immigrants as they are deported.
Photo 3: VBS crafts for children of the Los Artistas neighborhood
Photo 4: Pastor Pedro Castillo is excited to receive large boxes of shoes, bags of clothes and some children's teaching resources.
Photo 5: Nuevo Laredo city Mayor Benjamin Galvan (center, behind flag) and other government officials meet with Crossing Borders missionaries [photo by staff photographer for mayor's web blog site: http://benjamingalvan770.blogspot.com/]
---
Philippines
From Len Josen: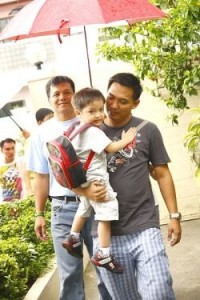 The Ambassador School for Children opened in 2004 with eight students in the nursery level. Since then, Ambassador has added one extra level each year. This year, we are proud to introduce our energetic batch of fifth graders as the Department of Education accredited our Grade 5 level.
In pursuit of our vision to become an international school, we enthusiastically welcomed four of our international students from the U.S.A., Korea, and Indonesia. During the annual parent orientation, the school also presented some of our exciting programs to be offered this school year, such as the football training program, the expansion of the Rondalla Team, and the school's association with the Quezon City government for the Adopt-a-Park Project, which will instill environmental awareness and patriotic values in our kids and parents.
Ambassador is also enterprising a partnership with two colleges that specialize in the field of business administration, health, global education, marketing and advertising, and multimedia arts. This partnership is in line with our desire to further the students' learning experience, promote health awareness among the students, parents and the community, and intensify our thrust of providing a quality learning environment, staff and resources.
---
Thailand
From Rod Matthews:
Pastor Livingstone Besweri is a young African man pastoring a small congregation in Ratchaburi, Thailand. In October last year, he sent us an email asking if we could be his spiritual mentor. He was impressed with the material on our website, and wanted to be a part of our ministry since he saw that Jesus Christ was "the top." Southeast Asian pastor Wong Mein Kong visited him last year and was impressed with his approach and sincere desire to build a closer relationship with us. So in May this year, when we both were visiting Thailand, we drove two hours southwest of Bangkok to the town of Ratchaburi to meet with Pastor Livingstone again. God works in unexpected and marvelous ways. Pastor Livingstone is only 26, is from Uganda and is teaching primary-level English in a local school. His brother, Samuel, 35, who is a level 2 chemistry teacher, and Samuel's wife, Margaret, assist in this ministry. They have two children, Nicholas, 2, and Esther, 3 months.
Pastor Livingstone can speak basic Thai, but not enough to preach in the language, yet the congregation of about 20 people consists of a majority of local Thai people, some of whom cannot speak much English. Each week they hire a local Thai lady who speaks fluent English to translate their sermons into Thai. Livingstone and Samuel's parents live in Jinja, Uganda, and host a house church of about 50 people in their home there. He told us that he forwards all the material he learns from us to his parents. When I told him that we had churches and a pastor in Uganda, he immediately wanted to connect his parents with GCI in Uganda – now a work in progress.
Our visit only strengthened their desire for us to mentor their ministry, and we are in the process of building this new relationship and providing him with more biblical educational material. They were delighted with the 10-lesson discipleship course (Discipleship 101) as a tool for ministry, and through Pastor Livingstone, we have funded its translation into Thai. This should be available electronically in the near future, adding one more international version to the six other Asian language editions already available.
Captions: 1. Samuel and Livingstone Besweri 2. Ratchaburi Bible Study
---
Karen Congregation
From Rod Matthews:
Upon arrival in Maesot, Wong Mein Kong and I were disappointed to learn that on this trip we were not permitted to visit the refugee camp where our Karen congregation is located. Karen elder, Lah Shi, informed us that the United Nations is in the process of categorizing and separating the various classes of refugees in the hope of eventually closing the camps along the Thai-Myanmar border. Five major camps hold over 100,000 refugees who are mainly ethnic Karen people who have fled
Myanmar to avoid the decades-old conflict with the Burmese army..
The UNHCR has been attempting to resettle genuine political refugees for some time, but as families are resettled overseas, new refugees arrive, many of whom are economic refugees, seeking a better life for their families as they hear about the resettlements. So the population in the camps has not declined. Economic refugees do not fall into the mandate of the UNHCR and once the sorting process has taken place, many of these are likely to be returned to Myanmar. But after decades of life in these camps, there are many elderly people who cannot face a new and much more complicated life in a foreign land where they would also have to learn a new language. Many of these long-term refugees will probably have to live out their lives in Thailand unless there is a permanent and secure political settlement within Myanmar. The political refugees whose lives are endangered by a return to their homeland desperately need and desire a new life for their children. It is a confused and uncertain situation for so many who are stateless and dependent on the UNHCR and humanitarian organizations for their survival.
The Australian churches provide financial support every month for our Karen congregation, to help with medical needs, educational expenses for the children, home repairs and food supplements, and to provide pastoral care and support.
---
Prayer Requests and Updates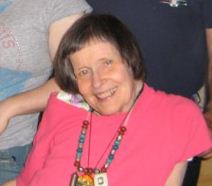 Marilyn Gentleman, facilitator of our Fairbanks, Alaska, Grace and Truth Community Church, passed away June 29 at the age of 69. Although confined to a wheelchair for more than 30 years, Marilyn faithfully and cheerfully served God, her family and her community.
Cards may be sent to:
Dennis Gentleman
1326 6th Avenue
Fairbanks, AK 99701-4136.
---
It's with deep regret that I inform you of the passing away of one of our pastors, Colin Curtis. Colin had been battling prostate cancer, as well as having a stroke. He died of heart failure. Colin had served the church for many years, initially in Durban, before moving to Pretoria, where he pastored our Raslouw congregation. He is survived by wife Dolla, a son and two daughters.
Cards may be sent to:
88 Springbok Ave
Theresapark
0155 SOUTH AFRICA
Remember that prayer is the battleground where we fight the good fight of faith. Let's encourage everyone to join together in prayer, for we belong to Christ, and by the Spirit it is in Christ that we pray. Prayer and other spiritual activities help keep our hearts in tune with God and remind us of who we are in Christ. He is our all in all, and in him we are eternally beloved of the Father and blessed to share his good news with others.
Love from my family to yours,
Joseph Tkach
---