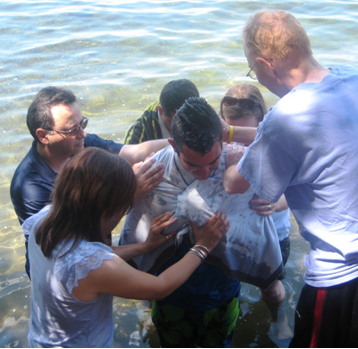 Camp Connections, a GCI-Canada camp, just completed its sixth year. This year the camp had two sessions, held at Providence Point, in Lanark, Ontario. Campers come from Ontario, Quebec and New York.
The camp welcomed Pastor Dennis Lawrence for a couple of days. Dennis (pictured at far right), who co-directs the camp with his wife Lynn Lawrence, was unable to attend full time due to health issues.
The camp's creative staff invented several fun activities. One was a "clue" game where the theme was that the Ontario Camping Association was coming to do their inspection and the "Director" felt the best way to pass was to have questionable campers disappear! It was great fun. However, the most enjoyed activity was the camp chapels, featuring a wonderful worship band. Chapel messages followed the "Living Loved" curriculum developed by GCI-USA Generations Ministries. Each camp session ended with a banquet, awards ceremony and bonfire. Special recognition was made of the loss this year of one of our strongest camp supporters, John Ferlatte.