On Sunday September 25, members of the GCI/WCG congregation in Manchester, England combined with members of the St. Andrew's Church for a joint Back to Church service.
The previous Saturday leaflets were distributed to homes in the area. The leaflet featured an article by GCI member David Bedford describing his impressions when he first started attending church. He was expecting to find near perfect members, but it wasn't long before he realized they had as many flaws as he did. Then, reading the Bible more closely, he realized the New Testament was full of flawed individuals as well. The leaflet then gave encouragement to respond to the invitation to attend the special Back to Church service, knowing that the members of the church are not perfect, but trying to serve God.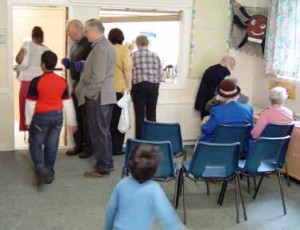 David also led the service, with other WCG members doing a scripture reading and playing piano for hymn singing. The Rev. Lisa Battye of St. Andrews gave an encouraging and uplifting message about the healing of the paralytic man as covered in the scripture reading. Rev. Battye then concluded the service by leading Communion. Following the service, the two congregations joined in fellowship over tea and refreshments.