From October 27-30, 17 people gathered for the first Odyssey in Christ spiritual formation retreat at the Pine Lake Retreat Center in Groveland, FL. After many years of personal experience, study and research in the area of spiritual formation retreats, GCI district pastor Larry Hinkle designed a retreat to help pastors and ministry leaders experience spiritual refreshment and ministry empowerment.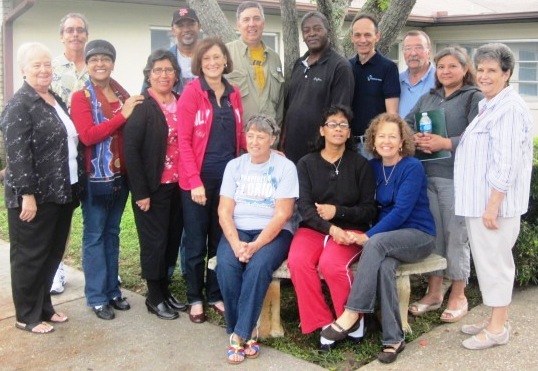 Larry, along with Charles and Carmen Fleming, led the retreat, presenting spiritual formation exercises that helped participants listen and respond to God's direction in their lives. Dr. Ross Jutsum served as music director; and Beotis Williams, Kitty Hildreth and Harriet Robinson assisted as "retreat angels."
When asked why they attended, participants noted a desire for a special encounter with the Lord, to experience personal spiritual growth and to have a closer walk with God. All agreed that the retreat provided far more than they were expecting. Several expressed interest in participating again.
Charles Fleming, GCI's Missions director for the Caribbean, submitted the following evaluation:
The retreat offers hands-on experience in some of the spiritual formation exercises that have been a vital part of the Christian experience over the centuries. Larry has done a remarkable job in researching those practices and contextualizing them to our GCI culture, as we seek to participate more fully in the life of the Triune God. Some of the theologians Larry consulted have expressed great appreciation for his work. For example, Baxter Kruger mentioned that the Holy Spirit's fingerprints are all over it. The program is explicitly Trinitarian and promotes a life rhythm of rest and work that should stand our pastors in good stead. There is something for the new intern, for the veteran who might be struggling with burnout, for the pastor seeking a new vision for his congregation, for the church planter preparing his team for the challenges ahead, and for the pastor and his team whose church is moving more deeply into mission and outreach. I pray that Larry's dream of not only offering a weekend experience, but also mentoring dozens of pastors to become spiritual directors will become a reality. My imagination is fired by the thought of what kind of life and mission that would flourish if this kind of intensive formational experience could be offered to our membership as well.
Planning is underway for future Odyssey in Christ retreats in various parts of the United States. Participants who are GCI pastors in the U.S. earn four continuing education units in GCI's Pastoral Continuing Education Program. To learn more about the retreat, visit OdysseyinChrist.com.