The following report is from Rod Matthews, GCI's Mission Director for Southern Asia, New Zealand and the Pacific.
Papua New Guinea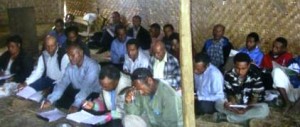 I met recently with Pastor Gabriel Mumuga who leads Papua New Guinea Ministries, a network of 25 non-GCI churches located in a rugged and remote part of PNG's Central Highlands. Pastor Mumuga has been using our Discipleship Course in training pastors and other congregational leaders in his network. He had visited one of our Australian congregations, was very impressed, and met with me to discuss how his network might develop a closer working relationship with us.
Fiji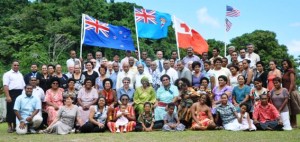 A group of GCI members from Fiji, the United States, Australia and New Zealand met in September for the Coral Coast Festival in Fiji. Isei and Va Colati, who pastor the local GCI church served as hosts. This annual festival is the only time Fijian members are able to get together. Special activities included some wonderful theme evenings – first dinner then a few items of entertainment – all themed to one of the countries represented (America, India, Australia, New Zealand and the Pacific Islands). An outstanding aspect of the festival was the music – both the congregational singing and special music presentations which included solo, group and choir songs along with dramatic and traditional dancing. Dennis Richards, a GCI pastor in New Zealand, served as guest speaker.
New Zealand and Sri Lanka
Back in March, Christchurch, New Zealand was devastated by a second major earthquake in six months. Members of GCI's congregation there were directly affected, suffering loss and breakage of household goods. Two members have been unable to continue living in their homes. Nevertheless, in a living example of John 17:35, our members in Christchurch sent financial aid to those suffering from earthquakes in India and Nepal, and flooding in Pakistan! Also thanks to the generosity of our members in New Zealand, our booklet, The God Revealed in Jesus Christ is now available to people in Sri Lanka in the Tamil language. This complements our Sinhala edition, which was published last year. This is the first booklet we have ever published in Tamil and with the previously published Discipleship Course in both languages, adds to our growing inventory of biblical educational material in the two primary languages of Sri Lanka.