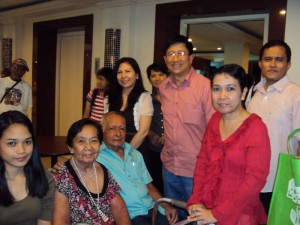 Members from the Philippines attended the annual Philippine Festival on October 28-31 in Cagayan de Oro City (with simultaneous celebrations in Bukidnon, Manila and Davao). The festivals followed the GCI Philippines 2011 national theme, "Growing Together in His Love."
Festival highlights at the main site included worship services, a Trinitarian theology forum, variety show, family day, and socials for youth, singles, couples and seniors. Festival speakers included Eugene Guzon (Philippine National Director, who discussed the topic of "Our Foundation Is Love"), Len Joson (director of Philippine Media and Communications, who discussed "The Gospel of Forgiveness"), Jess Bahinting (Area Superintendent for Visayas, who discussed "Salvation That Leads to Good Works") and Jeng Manriquez (Area Superintendent for Mindanao, who discussed "The God Who Loves Sinners").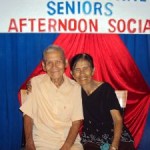 Naciancino and Alejandra Rico (pictured at right) celebrated their 63rd wedding anniversary during the Seniors Social. They have nine children and 24 grandchildren.
The Trinitarian theology forum was facilitated by Len Joson. Eugene Guzon answered some of the questions. One participant commented that her new understanding of Trinitarian Christ-Centered theology will help her relate with others much better.
Another highlight during the festival was the baptism of seven individuals who committed their lives to Christ.