This update is from John Biswas, GCI missionary who leads the Bengali Evangelistic Association.
Because of the culture and poverty, mission trips to Bangladesh are never routine. No matter how much one may plan, the unexpected happens. However, this time, by God's grace, things went quite well. For that I am thankful.
On the way to Bangladesh, I stopped in Singapore to renew contact with some Christians who support our work in Bangladesh. In Dhaka, the capital of Bangladesh, I met with some of our gospel workers and with Christian leaders from other fellowships who have been helpful to us over the past few years. I had also arranged to meet a representative of the Bible League International who wanted to visit our mission center and to see our projects. He accompanied me on my journey to some of our village churches. He was impressed by the fact that so many villagers would like to have Bibles, which we are able give them as funds allow.
I thank God and am grateful to the many churches that make mission trips like this one possible.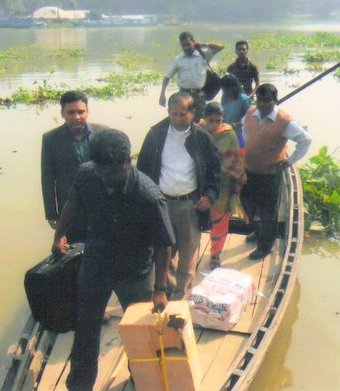 On this trip I tried to visit as many of our churches as possible. The photographs show some of our activities. The photo at right shows us unloading Bibles after crossing one of the many rivers on our way to the village of Bagdha where we have one of our largest churches. I take Bibles to as many churches as I can, for there is always a need. Because there are no roads in many of these places, we transport the Bibles using rickshaws and boats.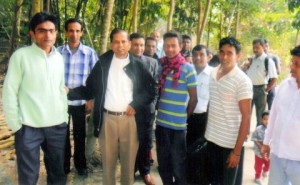 The photo at left shows some of the young men who help us in many ways. They are part of our extended fellowship.
The photo below is of our church service in Anondopur. I am standing, and onstage with me are village elders. We try to make these gatherings festive, so here we rented a colorful tent. Doing so attracts many new people to our fellowship. They feel included.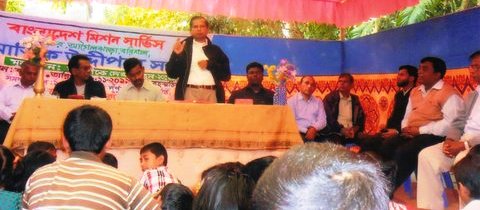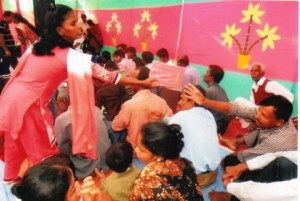 In the photo at left, Monju, one of our key gospel workers, hands a Bible to a new person who requested one.
Because many walk several miles to get to our meetings, we usually provide a small fellowship meal following the service, as shown in the photo below. The meal gives our members opportunity to serve the visitors.