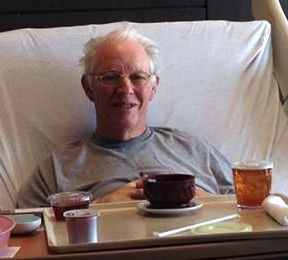 Prayer is requested for John Halford, special assistant to GCI president Joseph Tkach. John was recently hospitalized where he was diagnosed with cancer. He is now home, awaiting further tests to determine the extent of the cancer and to determine needed treatment. Here is an update from John's daughter, Becki Halford Brown:
My dad had been experiencing rapid weight loss and some discomfort in his chest. Tests showed that he has esophageal cancer. The oncologist says he is "cautiously optimistic" that the cancer is limited to the esophagus. If that is the case (and we will know soon), radiation and chemotherapy will probably not be needed, and dad will have surgery right away to remove the cancer. Short of a miraculous healing, this is about the best news we could ask for.
John and his family ask for your prayers for John's healing and for direction for the doctors who will be treating him.
Cards may be sent to:
John & Pat Halford 5836 South State Road 129 Versailles, IN 47042