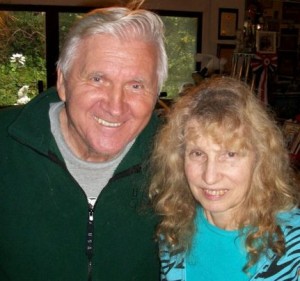 We were saddened to learn recently that long-time Ambassador College employee Dr. Harry Sneider has died. Harry is pictured at right with his wife Sarah who survives him.
Just a few days after Harry's death, GCI pastor Neil Earle gave tribute to Harry in a baccalaureate address at Glendora High School. Entitled "Time and Chance," Neil's message centered on Ecclesiastes 9:11, with examples from the world of sports to illustrate that the race truly is not always to the swift. Time and chance does happen to all. Neil then noted that Harry rose above time and chance to become an accomplished weight-lifter, Olympic coach and sought-after personal trainer. Here is part of what Neil said:
Harry with fellow weight-lifter Arnold Schwarzenegger

Harry had been told his leg must be amputated back in Germany about 1948 when his family was trying to escape Latvia and head for the U.S. But his mother prayed and he was able to function even though he had a battle with osteomylitis all his life. Because he could jump only three inches, Harry decided to become a weight lifter. When his family finally made it to the U.S., Harry became a champion weight lifter, pumping 451 pounds at age 61 in the Pasadena Senior Olympics.
In recent years, Harry and Sarah have hosted these Senior Olympics.
Our condolences to Sarah, to the rest of Harry's family and to his many friends.
Cards may be sent to:
Sarah Sneider
115 Loralyn Dr
Arcadia, CA 91006-1631