Dear Brothers and Sisters in Christ,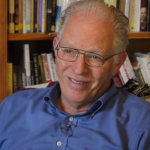 While it is with a heavy heart that I share with you that our brother John Halford lost his battle with cancer, I rejoice that the battle is over and John has won the race. Click here for related information, including an announcement from John's daughter, Becki Halford Brown. In this letter, I'll share several tributes to our dear friend and colleague.
I first met John when I was 14, living in Pasadena, California. John and his wife Pat were our neighbors. One day I was doing gardening chores and John stopped to talk with me. I was a bit amazed that he took notice. Most adults seemed to believe that children are to be seen, not heard. John made a comment about the good work I was doing, shared a few thoughts, then went on. Who would have guessed that I'd be working with John many years later, first learning from him and then serving as his boss (though I've never felt anyone could truly be John's boss!). It's been a blessing beyond words to know John since my youth, and to worked so closely with him the past several years.
John's impact on our denomination was vast. He is perhaps best known for the many insightful, thought-provoking articles he wrote for our publications, often finding stories in places no one else would even look. John served as editor and/or adviser for many of our international publications and his expertise will be greatly missed. John's service to the church also included serving as head of campaigns in Australia and regional director in the UK. He also taught at Ambassador University and Imperial Schools and worked for The World Tomorrow program for a number of years.
I visited John a couple of weeks ago while he was still in the hospital. We shared stories and prayed together. Though he couldn't communicate much, he still tried to get me and others in the room to laugh. Humor was one of his greatest gifts. What struck me most during the visit was hearing the many stories that came in from around the world from people in whose lives John made a personal investment. John encouraged many Ambassador students to participate in one of our international projects (in Thailand, Sri Lanka, Jordan and China). Many of these former students shared how his encouragement made the difference. They now feel they can never repay John for the support he so freely gave them. As an example, John recently encouraged two young women, Carrie Smith and Kayla (Shallenberger) Elliott, to travel to Africa where they taught school for six months. Both benefited greatly, crediting John for making a big difference in their lives.
Chugait Garmolgomut, a former Ambassador student who lives in Thailand, shared how John's investment in him inspired Chugait to start a school. Over the years one school became many, and John participated in the dedication of several (see picture below). Chugait says that he owes it all to John and his investment in him. Chugait is working on a new project that will honor John and his investment (it's too early to share the details).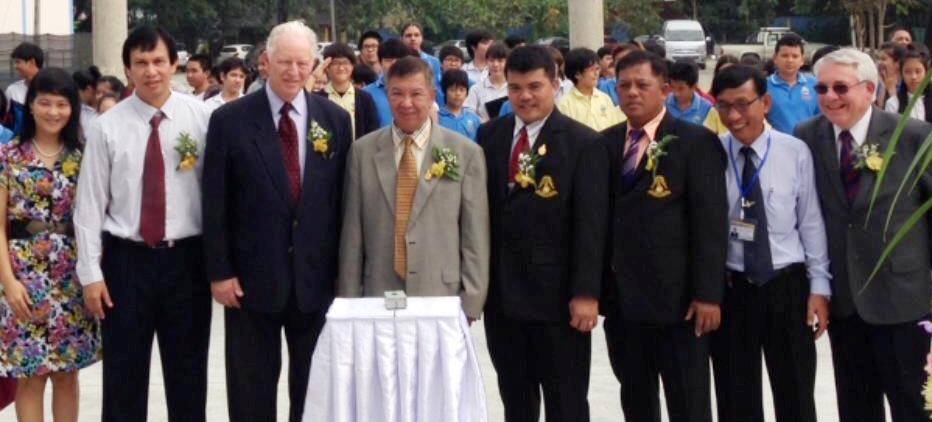 Rick Shallenberger, John's pastor for the past 12 years, has compiled testimonies from people around the world who have been deeply impacted by John. Rick recently shared some of them with me and his congregation, showing how one person can make a big difference in the lives of many. Rick read many of them to John while he was bedridden. As John listened to one, he looked at Rick and said, "Amazing." Rick replied, "John, you are amazed because you didn't see yourself as doing anything out of the ordinary and you weren't trying to impress anyone. You were simply being the person God created you to be." John smiled and nodded. Here are several of those tributes:
– From Mike Feazell (recently retired as GCI vice-president):
John has, I expect, simply by being himself, generated more goodwill and had more positive impact on the widest range of people than any other single person in the annals of WCG/GCI. He is much loved and will be sorely missed. A mentor, a colleague and a friend.
– From Jeff Broadnax (GCI pastor in Columbus, Ohio):
John richly invested in me, empowered me, believed in me and has spent my entire adult life blessing me and challenging me to see with the fresh eyes that God provides. There are few people on the planet who have touched my life as much as John Halford. He means so much to my family and me. He not only officiated at our wedding 27 years ago, he never stopped supporting us.
– From Rod Matthews (GCI mission developer for Asia and the South Pacific):
I have known John for 47 years. He was one of God's exceptional gifts to our fellowship, and his legacy resides in thousands of lives around the world, mine especially. I owe him much as a very personal and loyal friend, mentor, encourager and guide. He would have no idea how much he taught me, or how he helped me learn to see through masks, and to develop discernment. And I so much enjoyed his capacity to bring down the high, and lift up the poor. Our senses of humor were very compatible.

John had a brilliant, unshackled and exploring mind, coupled with unmatched skills in communicating with common men and women, a remarkable capacity to utilize repartee and humor to highlight truth and reality in the midst of swirling mists of ideas, facts and personal agendas. He excelled at cross-cultural relationships, always upholding those in need of support, seeing potential and opportunities with uncanny accuracy. His perceptive wisdom and experience helped build and enhance our mission activities—especially in the UK, Europe, Australia and Asia where he had lived and served. Many of us are staring down a very big hole in our lives right now. May God's comfort and blessings, including the 'hugs' of our worldwide family be with Pat, Becki, Judy and their families.
– From James Henderson (GCI mission developer for Europe and the UK):
John, one day you'll read this and I think you'll laugh because it sounds over the top and perhaps too sentimental. You'll no doubt want to edit it, and you'd do so seamlessly and beautifully. You'll probably say: "What was all the fuss about?' Tears are streaming down our faces as we compose this message. Who would have thought that all over the world people are crying over you right now? You touched so many lives.

C.S. Lewis said that grief is part of the joy of having known someone, and it's been such a joy to know you. Thanks for being who you are. Thanks for being a friend in good times and in bad. I remember our early morning walks together at conferences when we'd have coffee and share each other's views about what was going on. You'd keep me grounded and help me see things more clearly. We'd laugh a lot. Your incisive mind saw the funny side of life, and you had a knack of bringing this out in your speaking and writing. You drew us in through your wit and held us captive while you made your point. You'd challenge the way we think. You wrote your words on our hearts and minds, and they are still there.

So many people have personal stories about you. They have anecdotes to tell of what you did for them or of what you said to them. You were kind. You'd help others behind the scenes, away from public view. You were gentle and comforting to those in distress. You reached out to the underdogs when others abandoned them. Your compassion was tangible. Of course, like most of us, you could be argumentative, and infuriatingly so at times, but that was the fun of knowing you. Always your Christianity and humanity shone through. Shirley and I love you and we miss you already.
– From Charles Fleming (GCI mission developer for the Caribbean):
Truly a loss to many of us. John was a larger than life presence among us. I cherish many memories of our times together over the years as we negotiated our renewal period and moved into this wonderful season of peace. May the Lord's peace be with Pat and the family.
One person shared how a single encounter with John changed him. He and John were walking in a park when they came upon a clearly drunk man. John' companion referred to the man as "scum," to which John replied, "And a child of God!" John was like that—he looked on each person as valuable and worthy of respect and investment. We praise God that John invested in so many.
Many other tributes can be read on John's Facebook page. Many of us could add our own, telling how John invested in our lives, or made us laugh. One of John's great gifts was his ability to find humor in almost any situation, then make people laugh about it. On one occasion he said he couldn't understand why the greatest spiritual gift was not listed in Scripture—the gift of wit and sarcasm. Perhaps God saved that gift for John. Through his infectious humor and in many other ways, John had a great impact in our lives. As Rick noted, he did so simply being the person God created him to be. I pray that we will do so as well.
John's daughters shared with me that their father always taught them to be genuine and to pay attention to others. I think that's good advice for us all. We need to use the gifts and talents God has given us to invest in the lives of others. Even when those investments are relatively small, they can make big differences in the lives of many. Most of us will be as surprised as John was when we start to see the fruit of those investments.
John's memory will live long in our lives, and may his example live even longer.
Always praising God for relationships,
Joseph Tkach