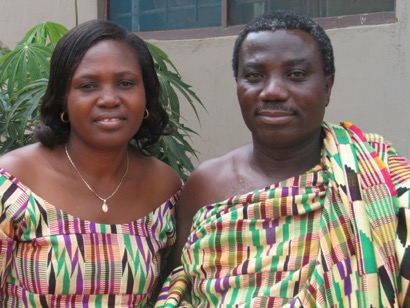 Many of us have heard the stories, "When I was your age I used to walk to school, two miles each way, barefoot." For Emmanuel Okai, GCI pastor in Accra Ghana, this was his way of life growing up. "My early life was typical of many children in a developing country like Ghana. I lived in a village where there was no electricity, no pipe-borne water, no paved roads. There was only one radio in the community and all of us would cram around it to listen to football commentaries or to popular music. Every day for the first ten years of my educational career, I walked two miles each way to school in the nearby small town of Akwadum."
Emmanuel was born in a cocoa-farming village in central Ghana in a hamlet so small it's not on any map. "My parents were both peasant farmers. My father was a renowned linguist (spokesman) for the chief of Anum-Toseng, our ancestral hometown, a herbalist and well respected elder of his community. I was only four when he died. Therefore, most of my growing up was under the care of my mother, an enterprising woman who would do any odd job to take care of me, her only son. I grew up in the eastern part of Ghana in my maternal grandfather's village, where I enrolled in elementary school when I was seven."
Emmanuel has one biological sister and three stepsisters along with several cousins, all who made up their African family system. "It was a period when I had a lot of fun as we learned many survival skills such as farming, swimming, setting traps to catch game, playing several types of games and learning to live in community and dealing with boys and girls who would tease each other. There were a few reckless moments though: One such led me face to face with a spitting cobra ready to strike at me – I was about 10 years old – when we went chasing lizards around our village! That early experience showed me how much God protects his little ones. The snake just recoiled and ran off when I shouted in despair. My early life experiences gave me the confidence to take care of my life, to be independent, to think for myself, to find ways to survive, to become enterprising and to believe in God. I developed a very optimistic positive outlook to life during my teen years as a result of my avid reading habits. I almost always look at the 'doughnut' and very rarely the 'hole' in any situation.
Those reading habits brought Emmanuel's attention to The Plain Truth magazine. Emmanuel's parents were originally practitioners of African traditional religion, but his mother became a Pentecostal Christian—a faith she held until her death in 1997. "I was a first year student in a teachers' college supervised by the Presbyterian Church. I had a lot of interest in reading and so when one of my friends brought old copies of The Plain Truth that his brother received, I devoured everything in each copy. Eventually, I subscribed to The Plain Truth, The Good News and requested several church booklets. I still recollect the impact on my youthful mind of such booklets as "Why Were You Born?" and the "The Seven Laws of Success." I began to take Christ more seriously."
Emmanuel did well in school because of his mother's support. "She saw so much potential in me and she, along with my step-father and step-sisters, supported me at the most critical periods of my life." At age 20, Emmanuel started work as an elementary school teacher. "Since then I have been independent. I also owe a lot to the famous Pan-Africanist first President of Ghana, Dr. Kwame Nkrumah, who introduced free education in Ghana in 1960, when I was in second grade. As a result, I had free tuition throughout my education career, including earning a degree from the University of Cape Coast. Without this policy of free education, I doubt if I could have reached where I am today."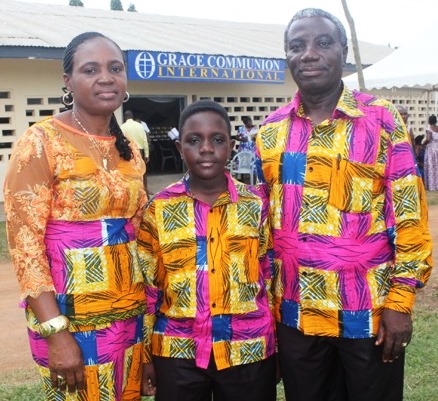 Emmanuel was 16 when he first met Margaret, the cousin of one of his childhood friends. "The very first time I saw Margaret, I told my friend, 'This is my wife.' Those were teenage fantasies. However, several years later, during my first year in university, when she had also completed high school, we met again; we became friends and later got married on June 30, 1979. We had challenges with regard to having children. We prayed, counseled and saw many doctors in Ghana, Nigeria and the US. In 2004, God blessed us with our only son, Nana Yaw, who is now in fifth grade. We have many 'grand-children' through the many young people we have taken care of as part of our traditional extended family obligations."
Emmanuel became part of GCI in September 1975 when he was baptized at the Feast of Tabernacles held in Ghana at the University of Cape Coast. A few years later, he and Margaret migrated to Nigeria to work as teachers. "We joined the church in Lagos where we supported the pastor Lateef Edalere and his wife Yvonne in the children and youth programs of the church. Eventually we assisted in running a few youth camps in Nigeria during our six years there. Partly due to this involvement, Pastor Edalere recommended and we were given scholarships to attend Ambassador College in Pasadena from 1986 to 1989. The experiences at AC were some of the most life-changing in our lives because we saw how real leaders lived their lives as true Christians—humble, selfless, charitable leadership." After graduating from AC, Emmanuel served as a ministerial trainee in Los Angeles under Pastor Abner Washington for a year. He then returned to Ghana and served for 10 months under Pastor Melvin Rhodes. He was ordained an elder in 1990 in Accra, Ghana.
Emmanuel says this of Margaret's role in ministry: "Margaret is very much central to my ministry. She is the sounding board to all ideas I generate, my biggest critic and my greatest encourager. She does almost all the background work at home and during many programs of the church. Her feminine sensitivity has enabled me to grow a balanced ministry, which is gender-sensitive. She is my adviser, encourager and friend in the vineyard of the Lord."
When asked what he enjoys most about being a pastor, Emmanuel said, "Seeing members overcome challenges, as a result of our support and their obedience to God. When I see a young child grow, mature and develop in the Lord, when I see changed lives; those bring me joy. Also, sharing the joys of our members in such incidents of life as marriage, child naming and blessing and other similar celebrations." This fits in with Emmanuel's passion which is "teaching and finding creative ways of doing the work of God; and in training/mentoring the next generation of leaders, including the youth and children."
Emmanuel also loves being part of GCI. "There is a close bond of friendship within GCI that I enjoy very much. Right now, most of those I consider to be truly friends are in GCI. There is a sincere warmth and love among fellow members of GCI."
His most memorable moment as pastor took place recently. "Successfully hosting the large delegation of visitors, including my mentors, the Washingtons and Mrs. Yvonne Edalere, during the recent 40th anniversary celebrations of GCI Ghana in August 2014. Hosting three families in our home for that occasion was a dream come true for Margaret and me."
Emmanuel chuckles when he thinks about where he is in comparison to all he's done. "Over the 62 years, I have been a teacher, trader, farmer, tour operator, school owner, bi-vocational pastor among other jobs. However, as a young person, I swore never to do three jobs: policeman, teacher and priest. God had other ideas and now the two jobs I love and enjoy most are teaching and being part of the priesthood of Christ."
Emmanuel says he feels closest to God "when reading the Bible or commentaries on aspects of the Bible that deal with the nature of God. Also, when I am in the natural environment."