All GCI members, families and friends are invited to Converge 2015. We are expecting a capacity crowd, so don't delay—register now at https://gci.org/go/converge15 (sign-in required).
Converge is an annual gathering hosted by GCI Generations Ministries. It has always been an amazing time of worship and fellowship in the triune love of Father, Son and Holy Spirit. We anticipate that 2015 will be the best ever. Because there will be no U.S. regional conferences in 2015, we're opening Converge 2015 to a general church audience. Converge is no longer just for youth ministry types!
In 2015, Converge will be held on March 20-22 in one location—beautiful Deer Creek Lodge and Conference Center located near Mt. Sterling, Ohio, 30 minutes south of Columbus. The facility has over 3,000 acres with hiking, fishing, boating and golf. The entire facility will be ours that weekend, including their 110 hotel-style lodge rooms. To see pictures of the lodge rooms click here.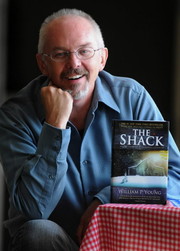 Converge 2015 will have something for everyone, no matter your age or ministry focus. Guest speaker Paul Young (pictured at left), author of The Shack, will share the jaw-dropping, life-changing, epic story of the gospel. GCI president, Joseph Tkach will also address one of the plenary sessions and there will be workshops focused on all kinds of ministry renewal needs: youth ministry, camp leadership and management, worship leading, intro to Christian leadership, theology and practice, missional life flow, children's ministry, GCI Internships, camp curriculum, ministry coaching and more. Childcare will be provided so you can have uninterrupted time at plenary sessions and workshops. To take advantage of this service, provide the names and ages of your children when you register.
Converge 2015 begins at 7:00 P.M. EST on Friday, March 20 and concludes at noon EST on Sunday, March 22. It's important to arrive early enough to check in prior to the opening session. If flying to Converge, the Port Columbus International Airport (CMH) is only 45 miles north. GenMin will provide limited transportation to and from CMH on a first-come, first-served basis at $12/person ($20/couple/family). If you want transportation, email Jeff Broadnax at jeffrey.broadnax@gci.org. The Dayton and Cincinnati airports are also within reasonable distance.
Converge registration allows individual or group registration. The lowest cost option of $175/person is available when four people share one lodge room. The cost for single occupancy is $328/person. These costs include registration, two-nights lodging and the meal package (four meals). If you want to share lodging, please register as a group, listing the names of all the group members, then pay the fee for the entire group. If you desire to stay an extra night before Converge starts, please notify us when registering. Questions about registration? Email Anthony Mullins at anthony.mullins@gci.org or text him at 678.427.9967.
Regarding scholarships or otherwise giving people financial assistance to attend Converge 2015, why not partner as a church, camp or mission event?
Once again, to register, go to https://gci.org/go/converge15 (sign-in required).