Rey Taniajura, GCI-Philippines missions director, recently led a group of Filipinos on a journey around the U.S. exploring opportunities to plant GCI churches focused on reaching Filipinos living in the U.S. In this update, Rey reports on the final leg of the journey.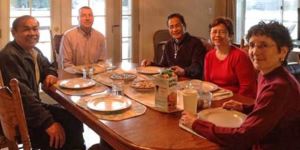 Together with Joe and Gie Manzano, my wife June and I were guests of Bart Baril and his wife Teresa who pastor GCI's congregation in Port Orchard, Washington. Bart had arranged for us to meet representatives of the Pacific Northwest Ilocandia Association (PNIA), a group of more than 100 Filipinos living in the area. We gathered at PNIA's building (where the GCI congregation meets for worship).
Bart and Teresa's congregation and PNIA have partnered in various outreach activities in the area. Also, one of PNIA's members, Josie, had been trained as a missionary by GCI-Philippines and sent to the Northwest. She has been connecting with various churches in the Port Orchard-Bremerton area and has raised up a small group. Josie will be connecting some of those she is working with to Pastor Bart.