This update is from GCI-Philippines director Eugene Guzon.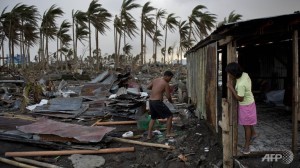 Last weekend, typhoon Hagupit (Ruby) passed through the Eastern Visayas and Bicol region of the Philippines. The typhoon followed about the same path as typhoon Haiyan last year and affected about a third of the Philippine population. Thankfully, our prayers were answered and initial wind speeds of 150 miles/hour quickly diminished. People had been evacuated to higher ground early on, and military personnel were widely deployed to prevent looting.
Reports from GCI pastors in the affected areas indicate that damage to life and property was only slight, though there was some damage to crops and homes. The pastors reported that our members are safe, though are tired as they clean their homes. Electrical power is still out in some areas, so GCI is providing generators to offer free phone charging services to the community.
We appreciate your prayers. We are thankful to God that he has spared so many of our countrymen from severe damage and loss of life. Nevertheless, we know that even so, many have experienced inconveniences and may have been traumatized because of their experiences last year. God is good, and we count on the fact that he is always with us even during these times.