The GCI home office recently hosted several new pastors and their spouses for New Pastors' Orientation. The conference, which was facilitated by Church Administration and Development (CAD), had a two-fold purpose: to share ministry tools and information and to provide an environment that would nurture mutual love, support and respect. An immediate bond of love developed among participants (pictured below) as the group experienced God's presence in prayer, worship and meals.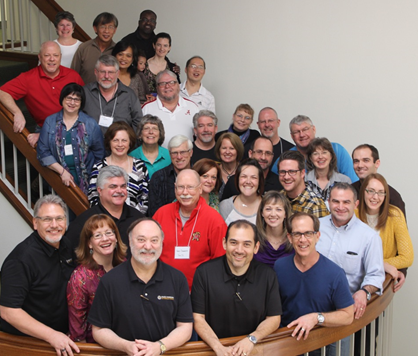 Topics addressed during the conference included church history, participation in the mission of God, reading and interpreting Scripture with trinitarian eyes, a pastor's ministry, preaching and pastoral counseling. Home office staff from IT, Media and the Treasurer's Office presented helpful practices and shared ministry vision and goals. GCI President, Joseph Tkach, ended the gathering by commissioning the new pastors and leading communion. He reminded the group of the privilege we have to labor together in the shadows of the triune, loving God.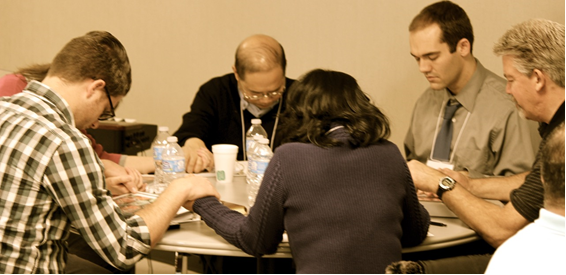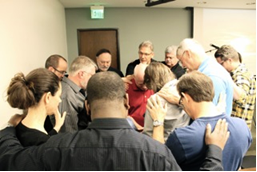 Two conference participants received special recognition. Dan Rogers, one of the instructors, was honored on the occasion of his retirement as CAD director. Mike Rasmussen, who accompanied several new pastors to the event, was commissioned as a regional pastor (see picture at left). Mike will continue to pastor the GCI church in Oklahoma City while serving the pastors and churches of the U.S. south-central region.
Many event participants commented that they felt a renewed sense of hope and courage, now viewing challenges in their ministries as opportunities to share the abundant love of Jesus. In a survey to receive feedback, one of the questions asked was, "What are your greatest take-aways?" Here are a few of the most frequent responses:
God loves me. God is love. His love is constant.
Sense of community. I'm not alone. We all work together for a common goal. Network.
There is a huge support system and encouragement base.
Being free to go and do what God has called me to do.
It is with humble hearts that we thank our congregations for their generous support as we partner in ministry.
We look to the future with excitement and anticipation.